Advertising on the EuroVelo Overview Map
Advertising opportunities on the EuroVelo Overview Map
The EuroVelo Overview Map is a high-quality overview map (scale 1: 5,000,000) covering the entire European network, providing inspiration for people deciding where to explore next. 110,000 copies of the two last editions of the map were printed and distributed across Europe at conferences and other events (e.g. ITB Berlin, Velo-city). The new edition of the map will be available before the start of the 2020 season with an initial run of 40,000 copies, which will be distributed across Europe via 22 different National EuroVelo Coordination Centres, Conferences and fairs (ITB, Velo-city, etc.).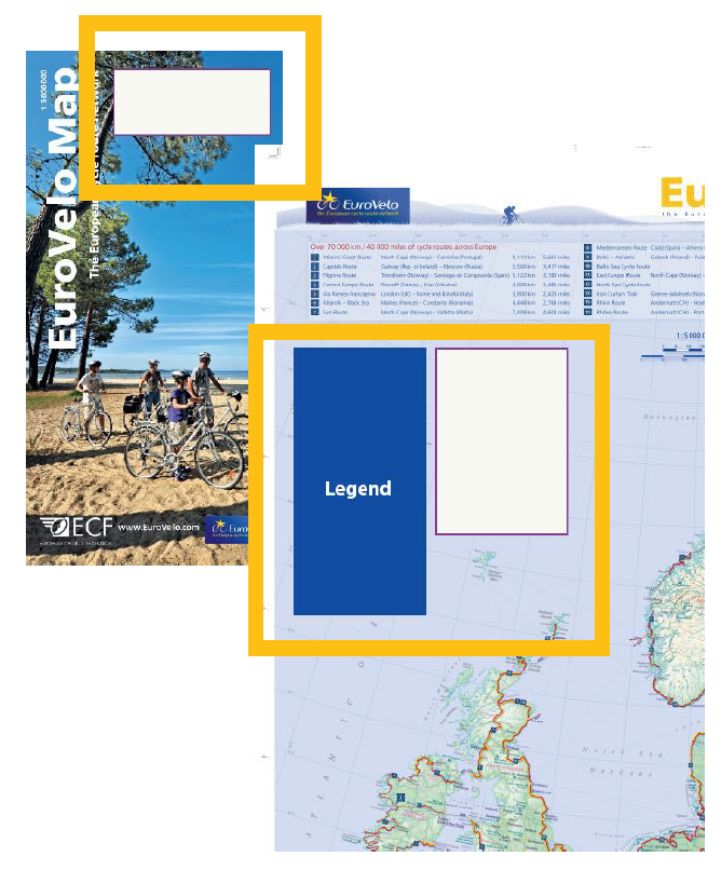 The new EuroVelo Overview Map comes with exciting new advertising opportunities. On the new map, it will be possible to include advertisements on both sides of the document. There are four different advertising options: Gold tier adverts, Silver tier adverts, adverts on the map side and adverts on the text side. By investing in a Gold tier advert, you become the main sponsor of the EuroVelo Overview Map. Gold tier adverts are featured prominently on the front cover of the map or next to the legend on the map side. Space is reserved on the back cover of the map for a Silver tier advert. On the map side, there is room for one advert in the upper-right corner and three adverts at the bottom of the map. On the text side of the map, general adverts or adverts linked to specific EuroVelo routes can be included.
Would you like to include your advertisement on the EuroVelo Overview Map or www.EuroVelo.com? Our Media Pack contains all further information and commercial opportunities. Please feel free to get in contact with us directly.
+32 2 329 03 84
Investing in EuroVelo
Cycling tourism has a value of more than €44 billion per year. An amount which is higher than the European cruise ship industry. A study commissioned by the European Parliament estimates that the EuroVelo network itself, once it's finished, will generate €7 billion of direct revenue each year. It will provide in excess of 60 million cycling trips leading through some of the most appealing routes of the continent such as the Loire à vélo in France and the Danube Cycle Path.