Back to all
News
EuroVelo routes perform well in ADFC's 20th Bicycle Travel Analysis
Thursday, March 28, 2019
The German Cyclists' Association ADFC again presented its Bicycle Travel Analysis at this year's ITB Berlin, the world's leading tourism fair. This annual analysis provides some of the best data available on cycling tourism and is based on several polls with more than 7,500 responses from German cyclists.
EuroVelo routes were among the best-performing cycle routes according to the analysis. EuroVelo 15 – Rhine Cycle Route and EuroVelo 6 – Atlantic-Black Sea were among the top five most-frequented routes. Most people cycled on the Weser Cycle Route in Germany in 2018, followed by the Elbe Cycle Route, Ruhr Valley Cycle Route, EuroVelo 15 – Rhine Cycle Route, and Danube Cycle Route, which forms a large part of EuroVelo 6 – Atlantic-Black Sea.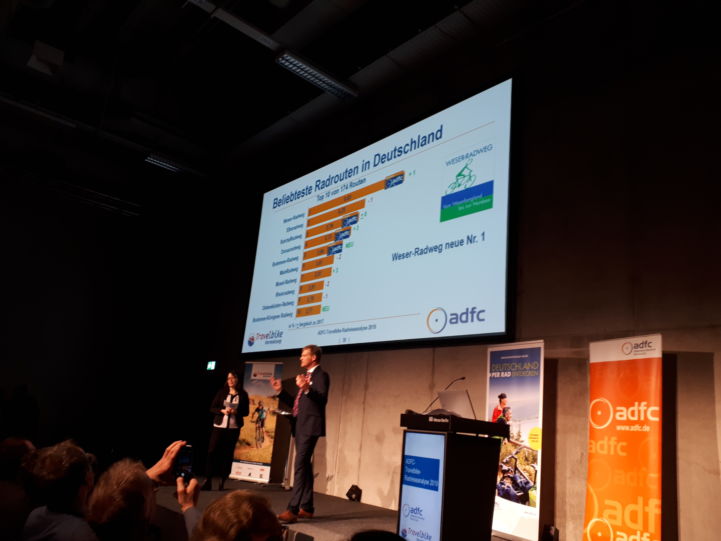 The number of cycle tourists aged 18 or older to go on a cycling trip totalled 5.5 million people in 2018, up 27% compared to 2017 (4.3 million). The analysis defines a cycle tourist as someone who completed at least one trip with a minimum of three overnight stays in the past three years during which cycling was one of the main motives. The number of day trips by bike also rose by 35% to 258 million in 2018. Cycling tourism is expected to see further growth in the coming years.
Experiencing nature (86%), exploring unfamiliar regions (65%) and cycling along a specific route (50%) were among the most popular reasons for a cycling trip. 41.6% of the respondents planning a cycling trip in 2019 want to cycle in Europe (outside of Germany), up about 5% compared to the previous year's plans.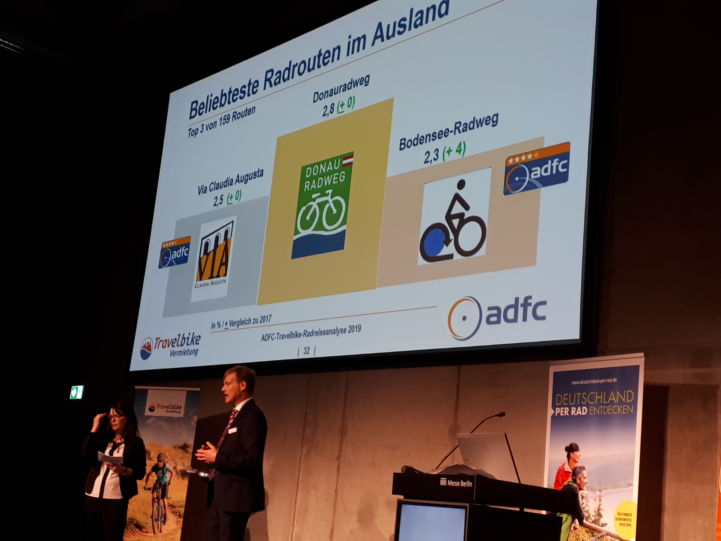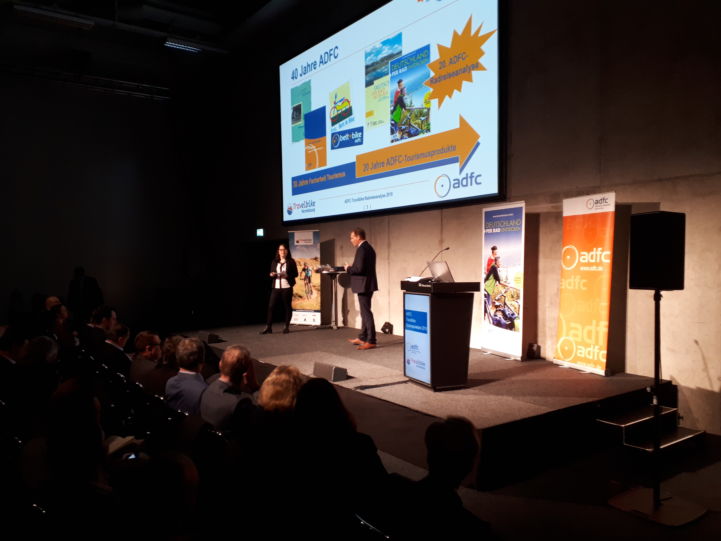 A glance at the rankings shows that cyclists are becoming more experienced and demanding. They remain loyal to cycle tourism, but not necessarily to the destination. This increases the competitive pressure among routes and regions. All the more reason to demand professional quality management and creative marketing!
You will find more information about the analysis and the route and region rankings at www.adfc.de/radreiseanalyse'. There is also an English report'.
Cover picture © ADFC/Gloger