Back to all
EuroVelo and Cycling Tourism Conferences
Tuesday, August 13, 2019
The EuroVelo Conferences have been held every other year since 2012 to share knowledge, highlight good practices and encourage further development of the EuroVelo network and cycling tourism generally across Europe. Previously, the conference was named the EuroVelo, Greenways and Cycle Tourism Conference to reflect the involvement of the European Greenways Association (EGWA) at that time.
The EuroVelo and Cycling Tourism Conference is unique in several ways. The conferences do not just attract one type of profession but bring together all those who are involved in the tourism sector: accommodation providers, public transport companies, tour operators, universities and academia, tourism officials, public authorities, cycle tourism world and user groups.
European Cyclists' Federation (ECF) is currently looking for a city or region to host and co-organise the EuroVelo & Cycling Tourism Conference 2023.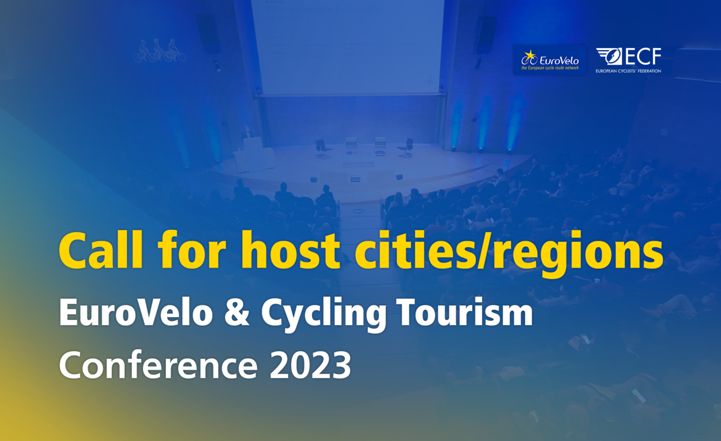 What are the benefits of hosting the EuroVelo Conference for the host city/region?
Increase international visibility of the city/region as a cycling destination.
Boost cycling and cycling tourism developments
Economic benefits
What are we looking for?
A city or region located on a EuroVelo route keen to show off their work on cycling tourism to an International audience and raise their profile.
A city/region with an enthusiastic team ready to work with ECF's EuroVelo Management Team to deliver a high-quality event.
A city/region aiming to lead in sustainable tourism and aspire to realise a long-term strategy for cycling tourism.
Is your city/region interested in hosting the 2023 edition of the EuroVelo & Cycling Tourism Conference? Find out more about the bidding process here and get in contact with Marta Orihuel at [email protected].
Find more information about specific EuroVelo Conferences using the links below:
EuroVelo & Cycling Tourism Conference 2021 - Barcelona, Spain
EuroVelo & Cycling Tourism Conference 2018 – Limburg, Belgium
EuroVelo & Cycling Tourism Conference 2016 – Vienna, Austria
EuroVelo & Cycling Tourism Conference 2014 – Basel, Switzerland