Back to all
News
Dublin plays host to 2019 EuroVelo Annual NECC/Cs meeting
Thursday, July 4, 2019
On Monday 24 June representatives of the National EuroVelo Coordination Centres and Coordinators' (NECC/Cs) met in Dublin, Ireland to present best practices, exchange experiences and agree on some significant steps to continue the successful development of EuroVelo across the continent.
Held a day before the kick-off to this year's Velo-city conference, the meeting was attended by more than 30 participants from 18 different countries. The EuroVelo NECC/Cs met to discuss several pertinent EuroVelo topics at this meeting. Among the issues that were discussed, particular attention was paid to:
New EuroVelo Governance model and the draft EuroVelo Strategy 2020.
EuroVelo Workplan 2019 including progress with the EuroVelo candidate routes.
The ongoing EuroVelo projects supported by the EU: EuroVelo 1, Eurovelo 3, EuroVelo 8, EuroVelo 10 and the ECO-CICLE
The new EuroVelo Overview Map and updated Media Pack.
The new EuroVelo.com website launched at Velo-city 2019.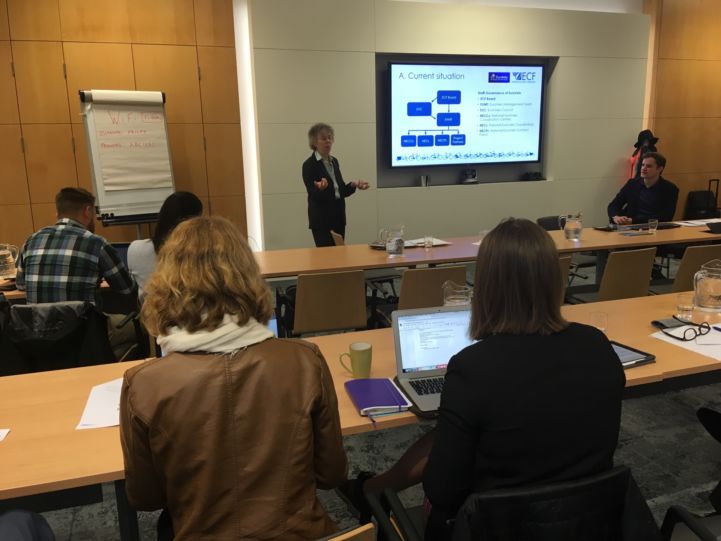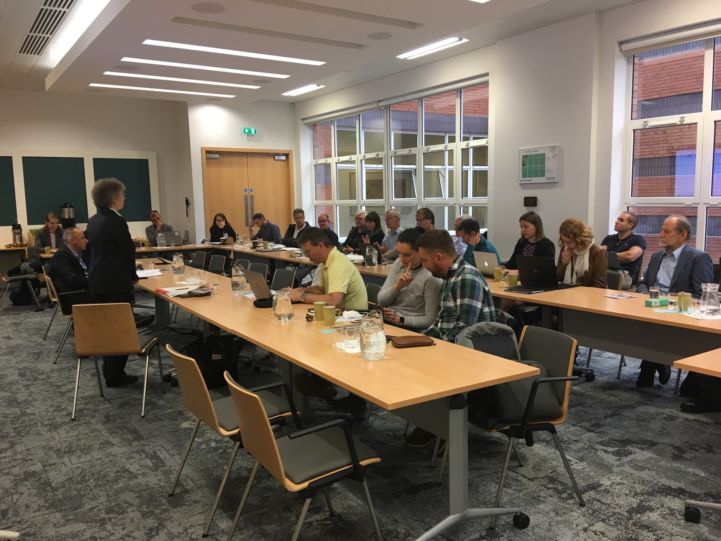 The meeting began with a warm introduction from Failte Ireland, who graciously hosted this year's event. They showcased the great work that they are doing in developing cycling tourism through projects like Wild Atlantic Way – Ireland's first long distance touring route that overlaps with the Irish part of EuroVelo 1 – Atlantic Coast Route.
As is tradition, the host and newest NECC/Cs also presented the current status of the EuroVelo network in their countries and their efforts to implement the routes by 2020. In Ireland, new EuroVelo signs are now placed in Wexford covering a 120km stretch along EuroVelo 1 and the Dublin to Athlone section of EuroVelo 2 – Capitals Route is set to be completed this summer. In Hungary, there are several developments underway with regards to signing, marketing and communications.
In the afternoon, the participants had the choice to attend one of the three different workshops that dealt with three EuroVelo related topics: cultural designations, usage monitoring and transnational long-term management systems. All three sessions were packed with attendees eager to deepen their knowledge on shared best practices across the network.
Afterwards, Member of European Parliament, Michael Cramer took the opportunity to look back over the development of EuroVelo 13 – Iron Curtain Trail. He dwelled into the history of the route with the BerlinerMauerweg – the initial route that passed along the former wall and visiting several memorials – and shared photos from different parts of EuroVelo 13. At the end of the meeting, he was presented with a piece of EuroVelo 13 signing (baring the signatures of all NECC/Cs present) as a thank you.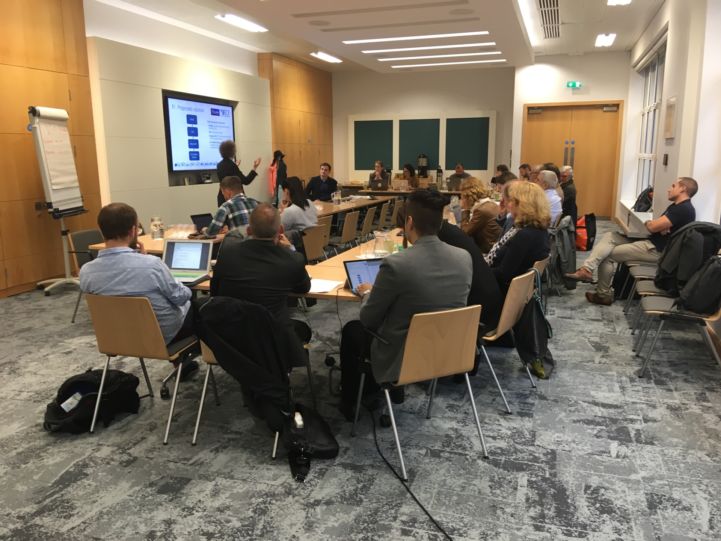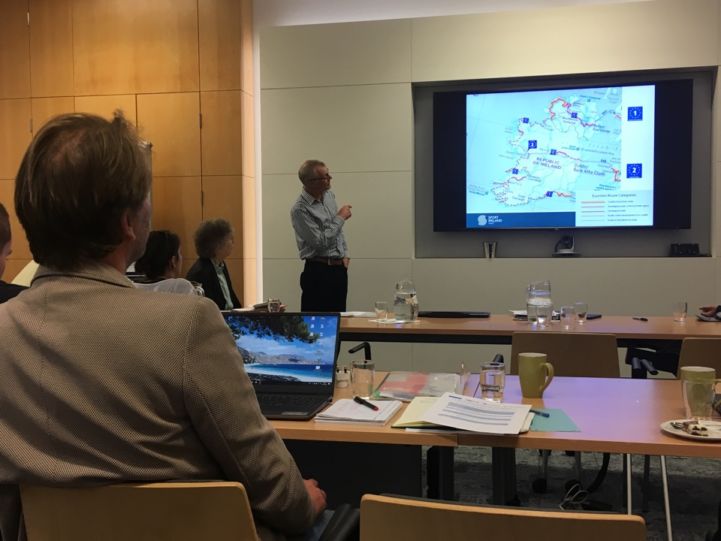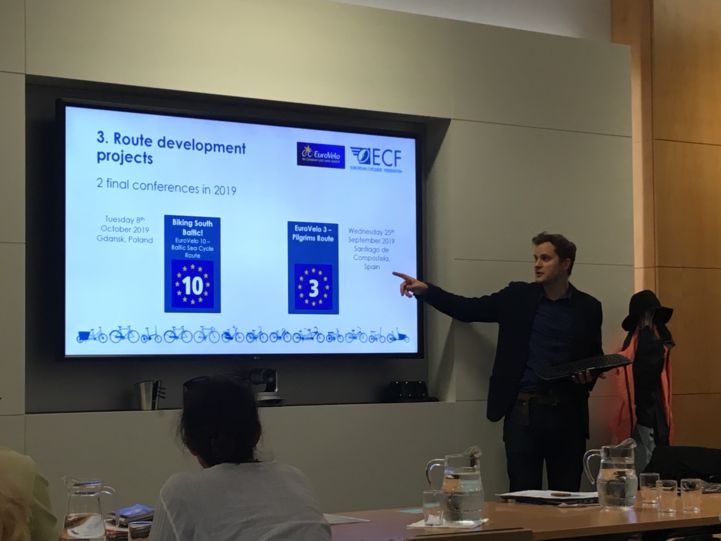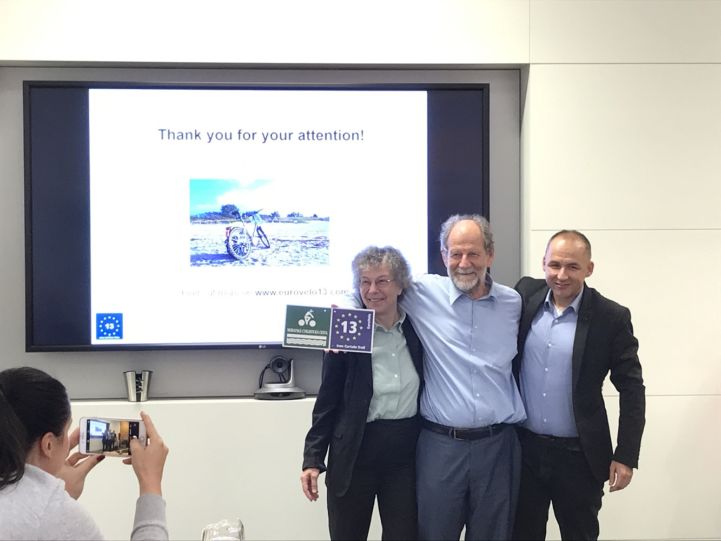 In the evening, there were further opportunities for everyone to network during an informal dinner hosted at the local restaurant 'Harbourmaster Bar & Restaurant'.
Next year, the NECC/Cs meeting will be heading to the Slovenian capital of Ljubljana – the recently announced venue of the Velo-city 2020 conference.