Back to all
News
Improved monitoring shows record numbers on French EuroVelo routes
Monday, July 29, 2019
New data from France shows that more cyclists are using the eight EuroVelo routes that cross the country than ever before.
New data from France shows that more cyclists are using the eight EuroVelo routes that cross the country than ever before.
Ever wondered how frequently people travel by bike on EuroVelo routes? Or what motivates them to travel on long distance cycle routes? Usage monitoring – the collection and processing of data relating to cyclists using the EuroVelo routes – gives key insights into the social, economic and environmental impact of cycling infrastructure.
While investments in infrastructure remain necessary to improve cycling conditions across Europe, there is evidently the need to evaluate the impact of such facilities in order to measure and improve their effectiveness. Cycling usage monitoring provides reliable and wide-ranging data insight on travellers and, in addition, offers evidence to convince relevant stakeholders and the public for further investments.
There exist two methods to monitor cycling usage: quantitative (automatic counters or manual counting) and qualitative (interviews and questionnaires). Both methods help to deepen the knowledge on cycling best practices and further route development (e.g. by creating new offerings).
Record numbers: EuroVelo usage monitoring in France
France has progressively been developing resources and replicable studies to assess the economic impact of cycling tourism on their national cycling network. With data gathered from over 700 automatic counters (243 of which are installed on EuroVelo routes), our French national coordinator, Vélo & Territoires, recently published record-breaking numbers of cyclists on EuroVelo routes in the country.
The map below compares the daily average of bicycle passages (per counter) on EuroVelo routes from 2017 to 2018. There is an increase for most of the routes crossing France with tremendous gains shown for EuroVelo 3 – Pilgrims Route, EuroVelo 5 – Via Romea Francigena and EuroVelo 15 – Rhine Cycle Route.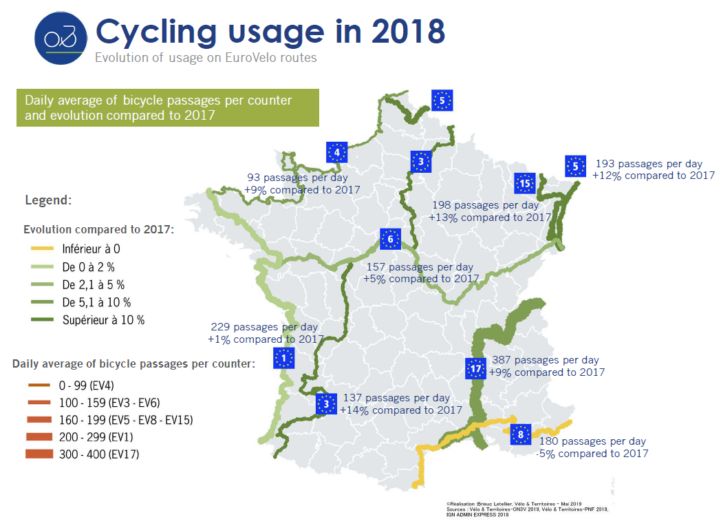 Example of EuroVelo 1 – Atlantic Coast Route
Using the existing methodology, a study was launched in 2018 to evaluate cycling usage on the French section of EuroVelo 1 – Atlantic Coast Route (known as La Vélodyssée). The study consisted of on-site activities including manual counting, brief interviews and self-administered questionnaires which integrate the common core questions for user surveys on EuroVelo routes developed by the ECF together with experts from around Europe. Automatic counters were used to verify the usage count.
The field study was spread over 29 survey sites and took 75 days to complete. In total, 20,721 cyclists were counted during its duration with 9,794 interviews and questionnaires being completed (which is an answering rate of 47%). The main findings included:
The majority of cyclists were classified as 'recreational' with a preference to bike along the coastline. 'Touring' and 'commuting' cyclists preferred the mainland.
Roadside signing was the main navigational tool for most cyclists (only 17% used their GPS or smartphone devices to navigate).
Most cyclists were able to identify the main entry and exit points for public transport connections and the 'Accueil Vélo' national cycling service scheme. * The favoured transport connection was by train.
Many cycling tourists prefer to travel with their families and/or partners and stay in campsites (tents or rental).
Overall, 81% of cyclists gave positive reviews: many stated that the infrastructure and accommodation options were good while services need improvement (like rest areas, water fountains, toilets, rental/repair points, etc.)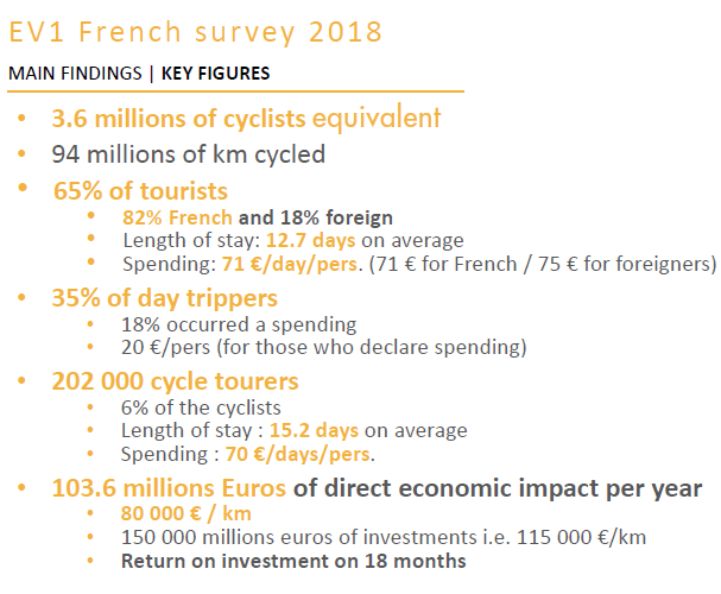 The study reaffirms the notion that cycling tourists usually partake in multiple activities during their stay (such as shopping, visiting surrounding areas, etc.) which is great for the local economy. As a result, their direct economic impact in 2018 was measured to be €103.6 million (roughly €80,000 per km).
Carried out as part of the AtlanticOnBike project, the main objective is to replicate this pilot study on the entire EuroVelo 1 route (and indeed, elsewhere across Europe to provide comparable data). The AtlanticOnBike project is partly funded by the Interreg programme.
To find out more about EuroVelo 1, please visit www.eurovelo1.com.
Author(s): Omer Malak
Cover image: Bayonne, Quai de Nive, © Aurélie Stapf (La Vélodyssée)