Back to all
News
New data confirms popularity of EuroVelo 6 – Atlantic-Black Sea
Tuesday, September 3, 2019
The latest user monitoring data from Austria shows that the popularity of EuroVelo 6 continues to rise. The figures are the latest confirmation that this section of the route – along the Austrian Danube Cycle Path – is one of the most popular cycle routes in Europe.
770,000 people were cycling on the Austrian stretch of the Danube Cycle Path in 2018, up 15.1% compared to the previous year. This number is based on 17 automatic counters located between Passau and Hainburg an der Donau on both sides of the river. The data was calculated by Upper Austria's tourism organisation WGD Donau Oberösterreich Tourismus GmbH on behalf of the Arbeitsgemeinschaft Donau Österreich working group, which combines five Austrian tourism and marketing organisations.
In fact, the 17 counters counted more than 2.3 million contacts, but many cyclists were passing several counters, so the number of 770,000 is based on a calculation considering counts of the same cyclists at different locations. 60% were cycling downstream, following the eastward direction of the river, while 40% were cycling upstream.
There were about 200,000 multi-day holidaymakers cycling along the Danube in Austria in 2018, 66,000 of which were travelling the entire stretch between Passau and Vienna (or Vienna and Passau), according to surveys among the cyclists. Another 256,000 were day trippers, while 314,000 people were everyday cyclists using EuroVelo 6 for trips like cycling to work or shopping.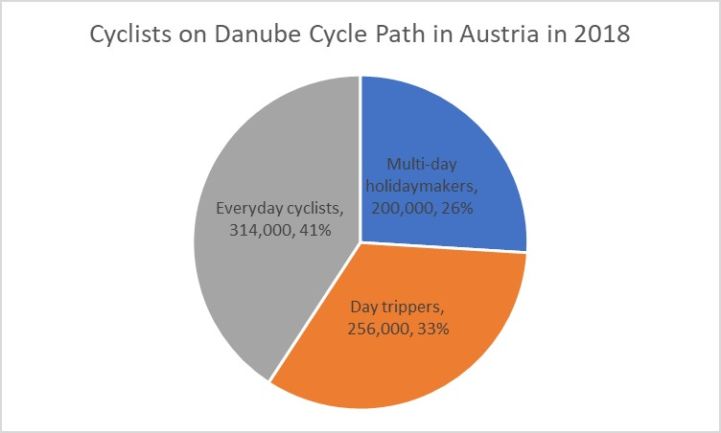 The fact that everyday cyclists are the biggest of these three groups highlights that local residents also benefit a lot from EuroVelo routes.
The data has been collected since 2010. The following table shows the development of user numbers over the years: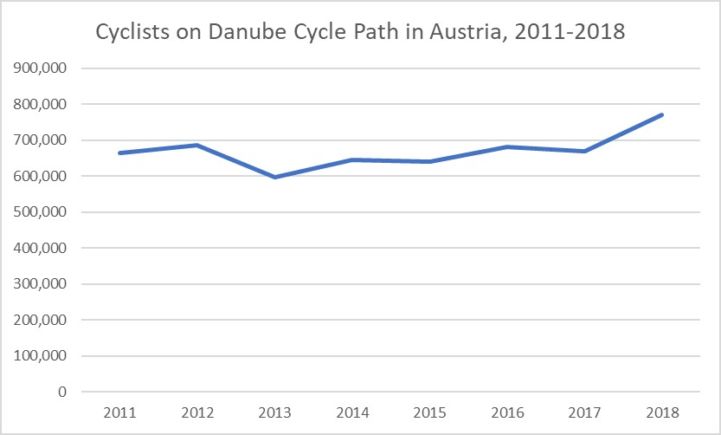 The user numbers depend to some degree on the weather. For instance, the relatively rainy summer in 2017 led to a drop of cyclists compared to the previous year. The numbers also show a long-term rise of users despite the fact that the route has been an established cycle path for quite a while. It can be challenging for established routes to continue to attract cyclists in the face of rising competition.
More good data on cycle-tourist numbers in Europe stems from the ADFC in Germany: They do an analysis every year (see English summary here), referring mostly to Germany. France's NECC Vélo & Territoires also offers good data (see key numbers here).
Together with experts from around Europe, the ECF has developed a set of common core questions for user surveys on EuroVelo routes. The aim is to collect comparable data on all the people using cycle routes in order to assess and compare the frequentation of the different routes as well as their economic impact across Europe.