Back to all
News
New study highlights the significant economic impact of cycling in France
Thursday, June 4, 2020
Commissioned by prominent French public bodies, the study 'Impact économique et potentiel de développement des usages du vélo en France en 2020' (Economic impact and potential for the development of bicycle use in France in 2020) looks at the current economic impact of cycling, including cycling tourism, over the past decade along with its development potential and future trajectory.
During the last decade, the cycling landscape in France has shifted drastically as calls for a greener society have resulted in increased investments as well as innovations such as e-bikes. Initiatives such as EuroVelo have also responded to these needs by creating high-quality cross-border cycling products. As Europe prepares for post COVID-19 life, this study provides good insights into why cycling should play a part in the recovery.
General cycling figures: economy, urban mobility, and infrastructure
According to the study, between 2010 and 2018, direct economic benefits linked to cycling were estimated to be around 8.2 billion euros annually with 80,000 jobs linked to the cycling industry. Taking into account indirect and other benefits lifts this figure up to 29.5 billion euros per year, which is staggering for only a 3% modal share!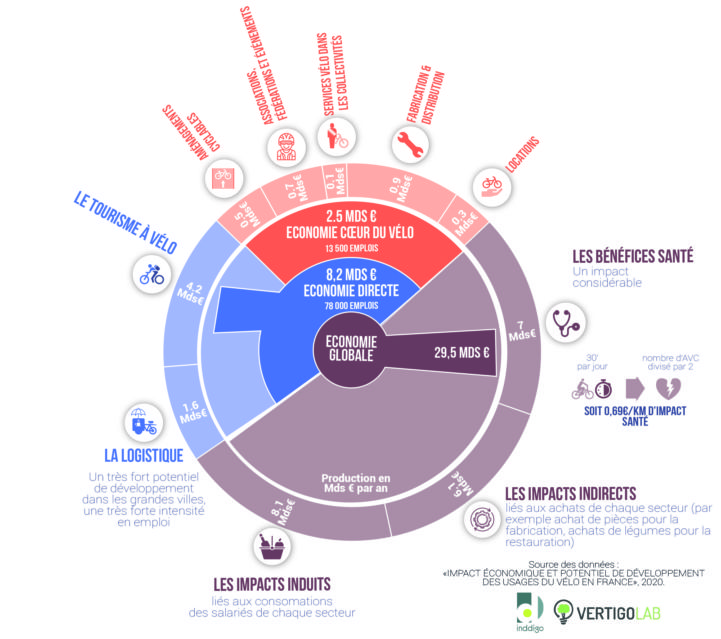 The bicycle has made big strides with French urban commuters with around 10% to 50% increase in usage in big cities like Paris, Bordeaux, and Lyon. Commuters are also cycling more often to work in urbans settings. These numbers are expected to rise even further during the current confinement period due to the implementation of temporary and permanent cycling lanes in cities. However, these big metropoles account for less than 20% of the overall French population. The study reports that suburban and rural areas have actually seen a decrease in bicycle usage since 2010.
This calls for stronger measures to support infrastructure projects that increase the use of bicycles in these areas (as the number of cyclists is directly linked to the cycling infrastructure in place per inhabitant). This is evident from the 40% increase in cycling investments (468 million euros) over the last 10 years in urban areas. Supporting the cycling tourism sector might be the best way to disperse tourism flows and increase cycling use in these areas.
Cycling tourism: development potential and economic impact
France is the second most popular cycling tourism destination (behind Germany) in the world. There is also considerable potential for cycling tourism to grow in France. The environmental and health benefits of cycling are well known. However, cycling tourism also contributes both to the local French economy by creating demand and jobs as well as by promoting transborder tourism. The EuroVelo network being the biggest example of its success, where France remains the most popular country according to recent EuroVelo Awards.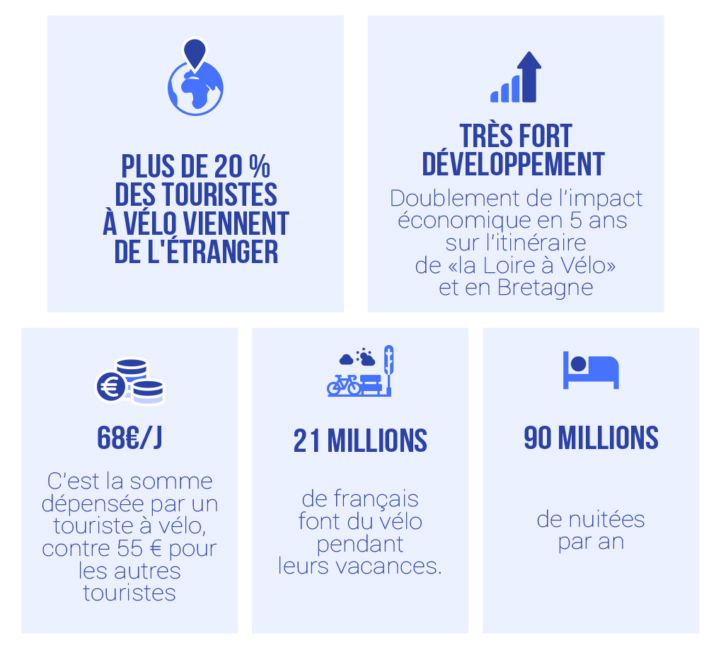 The study supports this by reporting 5.1 billion euros of economic benefits linked to cycling tourism per year in France. This figure represents a 46% increase between 2010 and 2018. The study predicts the economic impact to be even higher in cities as the tourism sector slowly recovers from the pandemic.
One of the ways for cycling tourism to reach all areas within France would be through strengthening the link between bicycles and trains. ECF has already launched a campaign to have minimum 8 bicycles per train in Europe. And, our French National Coordination Centre, Vélo & Territoires is already working on a project to identify areas to improve intermodality. You can also read their views on this study here.
You can download the full study here. It was commissioned by the Directorate General for Enterprise (DGE), Directorate General for Infrastructure, Transport and the Sea, French Environment and Energy Management Agency and French Cycling Federation.
Author(s): Omer Malak