Back to all
News
Celebrating successes and planning for the future: Provisional EuroVelo General Meeting 2020
Thursday, October 8, 2020
A record number of representatives of the National EuroVelo Coordination Centres and Coordinators (NECC/Cs), members of the EuroVelo Council and other key stakeholders participated in the Provisional EuroVelo General Meeting (EVGM) 2020 on 6 October 2020.
The change in title – from the Annual NECC/Cs Meeting to a Provisional EVGM – reflects the move towards a new governance for EuroVelo. At the meeting, the EuroVelo Management Team from ECF presented the latest developments and successes concerning the EuroVelo network and the draft strategy and draft governance for the upcoming years. In addition, the NECC/Cs' representatives elected a new EuroVelo Council member which will be publicly announced soon.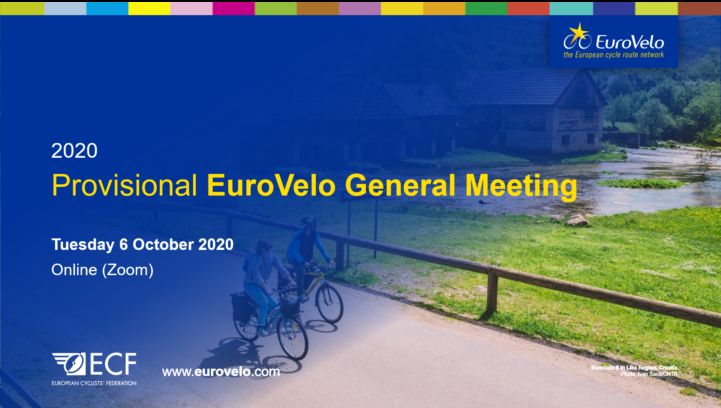 Due to the COVID-19 pandemic, the meeting was held online which required a more condensed agenda. To keep the networking and social side of the event lively, we organised a virtual meet-and-greet after the official closing of the EVGM where participants could discuss various topics in different rooms. Nevertheless, we hope to be back to "normal" next year hosting the EVGM 2021 as an in-person meeting with much more interaction and networking in Barcelona.
The programme of this year's event is available here. The presentation slides can be accessed here.
Thank you to all 49 participants and we hope to see you next year in person!