Back to all
News
Introducing a new modern look for EuroVelo corporate design
Thursday, May 6, 2021
We are excited to officially introduce our updated Corporate Design Manual which provides a comprehensive set of design standards for the EuroVelo brand.
Empowered by the burgeoning growth in awareness over the years, EuroVelo has become the leading cycling tourism brand. The new EuroVelo corporate design offers a distinct modern look for the brand that accurately depicts where the European cycle route network stands in 2021.
History, importance and process of developing a strong corporate design
At the heart of the change lies the new Corporate Design Manual (CDM) which presents a mix of new and existing graphic elements with brand specifications. The official manual improves upon the previous edition from 2013 by recognising EuroVelo's heritage, whilst at the same time creating a new and distinct look. We recognise that a strong corporate design is vital for our brand's cohesiveness. It is also a mark of quality and helps to deliver a recognisable reproduction across all media channels for greater impact.
Submit your request here to receive the EuroVelo Corporate Design Manual (2021)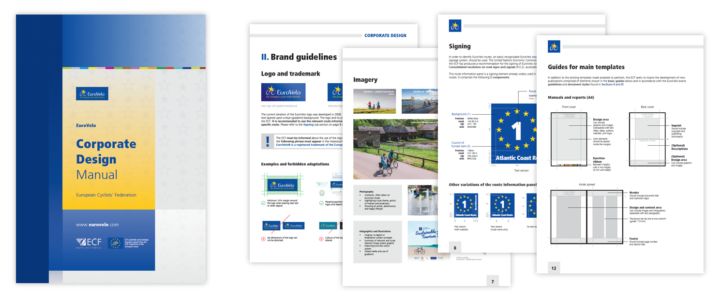 Over a year in the making, the latest manual was developed in-house by the EuroVelo Management Team with contributions from the EuroVelo Council. The general scope was to expand on the existing CDM, reconcile it with the now obsolete EuroVelo Signing Manual, and define clear brand and trademark guidelines. This process consisted of drafting and testing the visual engagement of our brand, by incorporating the history and the values that EuroVelo represents and communicating them in a clear, simple and consistent manner.
Establishing a set of design standards to support our network partners
The document will be a clear reference for general marketing and communications, but it will also serve as a template for future (route) projects where, for instance, the development of a specific CDM is necessary. The objective to facilitate the reproduction of our primary set of design standards by National EuroVelo Coordinator Centres and Coordinators (NECC/Cs), working alongside public authorities and other partners, in each European country was at the core of the final visual product.
As a result, the CDM is divided into three main sections which cover brand messaging, guidelines and practical applications. The document covers fundamental guidelines, defined at the European level, for overall brand consistency while also leaving room for creative additions associated with specific routes. The structure encompasses key value messages, use of logo, colour system, typography, EuroVelo signing and other graphic elements.
The final section of the manual covers templates and practical examples. We signal our pride in coordinating the network with our NECC/Cs. As such, we recently organised an open invitation workshop for our NECC/Cs where we disseminated document guides and templates. Therefore, in addition to appearing on all official EuroVelo publications, printed materials and website, the updated corporate design will be used in some capacity by the majority of our NECC/Cs network (and other relevant partners) using the newly developed EuroVelo Brand Kit.
Further reading: press kit and visual resources
Aside from the internal Brand Kit, you can find publicly available resources at our Press page, including our Press Kit (which incorporates the new look) as well as easily sharable infographics, images banks and other assets. We will be constantly updating this page with new information and resources to help journalists, supporters, NECC/Cs, and many others communicate and spread EuroVelo to the masses!
We would love to connect with you on this topic, so feel free to reach out to us using social media or other means.
Author(s): Omer Malak, [email protected]