Back to all
News
ADFC Bicycle Travel Analysis 2022: 42 million Germans went on a cycle trip in 2021!
Friday, April 29, 2022
On 16 March 2022, the German National EuroVelo Coordination Center, ADFC (Allgemeiner-Deutscher Fahrrad Club) published the results of their Bicycle Travel Analysis 2022. Positive results: 42 million Germans went on one day or more cycling adventure in 2021.
As springtime has arrived and summertime is in sight, planning a cycle trip across Germany might well be one of your upcoming holiday plans! Germany is currently the country with the highest number of EuroVelo routes, providing a wide choice for cyclists coming from all over Europe and the world. With no more than 10 EuroVelo cycles routes to be found in the country (map available here), Germany is THE country for cycling tours in Europe, as the following results show:
The COVID-19 pandemic unquestionably took a toll on the tourism sector, making travelling less attractive. However, the survey shows that almost four million people took a cycling trip in 2021 in Germany, which is more than 2020 but still less than before the pandemic, when figures peaked to 5.5 million in 2018 and 5.4 million in 2019. A million more citizens have taken a cycle trip this year and have shown enthusiasm for cycling tourism.

Figures show that 5 out of 10 most used German cycle routes in 2021 contain a EuroVelo section, such as the national section of EuroVelo 15 – Rhine Cycle Route, which is ranked 8th and is the only fully- certified EuroVelo cycle route! Holidaymakers should also take a ride along Oostseeküsten-Radweg, part of the EuroVelo 10 – Baltic Sea Cycle Route, ranked 4th (you can take a virtual cycle tour on EuroVelo 15 here ) and discover more about the treasures that can be found along EuroVelo 10 – Baltic Sea Cycle Route here.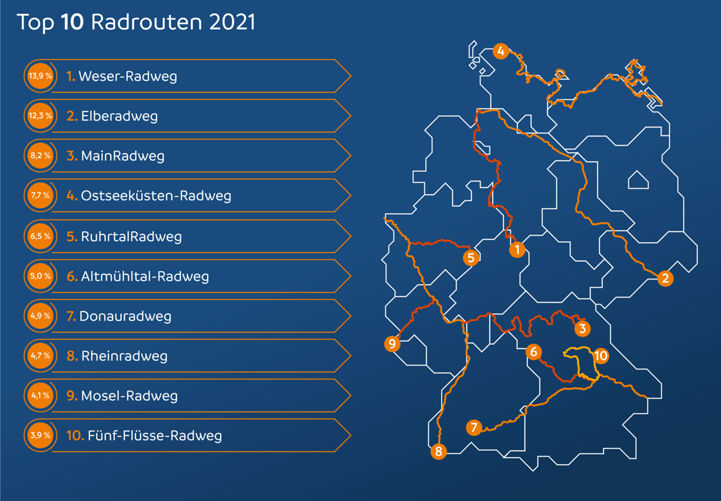 Of the 10, 000 and more cyclists taking part in the analysis, most of them consider that good "passability" and road safety are of great importance while planning a one-day cycle trip. Most cyclists (70%) planning a longer, multi day cycle trip would also consider road safety as the most important factor, with segregated cycle paths. Ultimately, the results are clear: the better the infrastructure, the more people cycle! Expert in tourism, Christian Tänzler, indeed confirmed this, asserting, "The current cycle travel analysis clearly shows cycling is popular, especially where the quality of the cycle paths is good. When deciding on a cycling trip – but also on a day trip – the infrastructure plays a central role".
Finally, remarkable sights, beautiful landscapes and sceneries along the routes are of a major importance for many cyclists, as 71% of those surveyed replied to this positively. Cycle-friendly accommodation were also considered necessary for 61% of those surveyed. Find your accommodation and learn more about the German National Cycling Friendly scheme " Bett + bike" here. You can also read this article to make sure you don't miss any German food specialty during your adventure along the German section of EuroVelo 15 – Rhine Cycle Route in Germany.
The analysis also witnesses the increasing number of bike purchases in the country, with 24% of the German cycling population having bought a bike last year, with nearly half of them being electric bikes, making it easier and for many, more pleasant to cycle, as it takes the difficulty away. In addition, 42% of the respondents used an electric bike for their cycling holiday in 2021 (10% more than in 2020), showing the growing trend of electric bicycles in cycling tourism .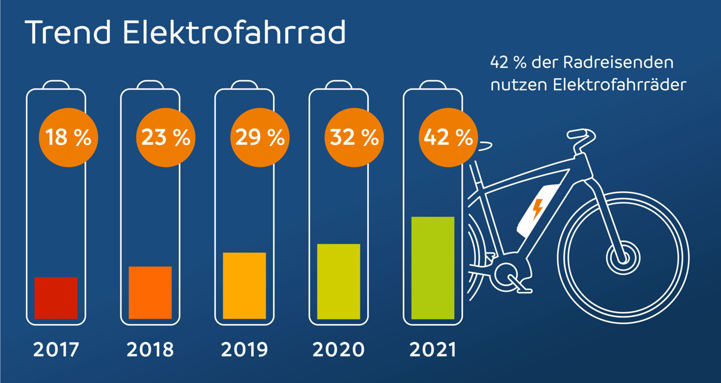 With improving infrastructure, wonderful scenery, and good- quality bikes, cycling tourism is rising, not only for cycle tourists but also for local populations who can enjoy quality time on the bike on a day-to-day basis, as shown in this article.
Original article here.