Back to all
News
Wanted! Host city/region for the EuroVelo & Cycling Tourism Conference 2024
Monday, January 16, 2023
The European Cyclists' Federation (ECF) calls for a 2024 potential city/region to host Europe's leading cycling tourism conference. Find out more about the event and how to apply.
The EuroVelo & Cycling Tourism Conference fosters the growing interest in cycling, sustainable tourism, and explores what the future holds for these sectors. With a growing number of participants in each edition, the EuroVelo & Cycling Tourism Conference is the leading international conference to inform, inspire and connect on EuroVelo, cycle route networks and cycling tourism.
ECF co-organises the EuroVelo Conferences with a host city or region in order to bring together a diverse range of stakeholders who are involved in the cycling and tourism sectors. EuroVelo, the European cycle route network, provides the framework for the main discussions, as a European success story and an accelerator for active and sustainable travel. Read more about the event and past editions on the dedicated page on the EuroVelo website.
ECF is currently looking for a city/region to host the 2024 edition of the EuroVelo & Cycling Tourism Conference. Could this be you?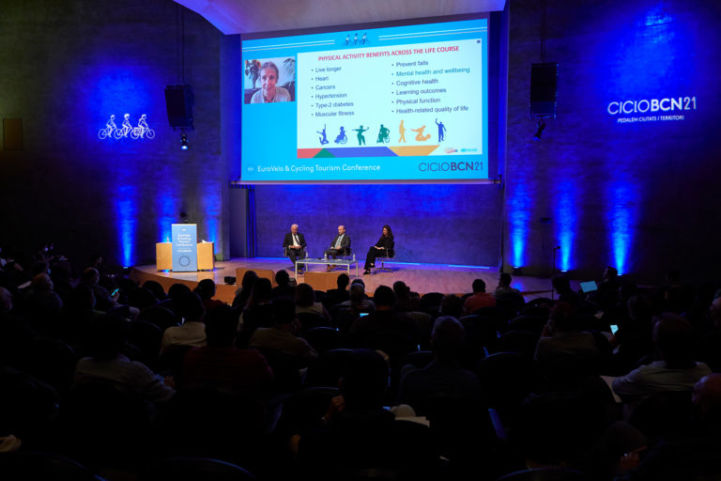 Who is eligible to apply?
The next host city/region of the leading conference on EuroVelo and cycling tourism should:
Be located on a EuroVelo route keen to show off their work on cycle route networks and cycling tourism to an international audience and raise their profile
Aspire to deliver a 3-day high-quality event with around 400 delegates thanks to an enthusiastic team ready to work with ECF's EuroVelo Management Team
Aim to lead in developing sustainable tourism and aspire to realise a long-term strategy for cycling tourism.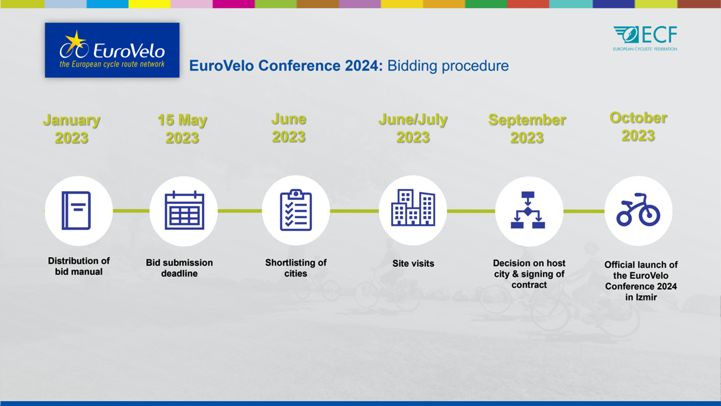 Why host the EuroVelo Conference 2024?
There are several benefits of hosting the EuroVelo Conference 2024. The key ones are:
Boost cycling and cycling tourism developments
Hosting a EuroVelo Conference should be integrated in a strategy to improve cycling, sustainable tourism and cycling tourism. All cities/regions that have hosted the conference have benefited by developing their provision for cycling tourism around the event. Working on the conference has also proven to be a good way to grow productive working relationships between the city/region and cycling and tourism stakeholders.
Increase international visibility of the city/region as a cycling destination
As a key event in the cycling tourism field, the conference helps raise awareness and enhance the reputation of the city/region and even the country as a cycling tourism destination. It generates added value in terms of international prestige by attracting renowned speakers, opinion leaders, and media in the fields of cycling and tourism and beyond.
Enhance public support
The publicity generated by the EuroVelo Conference can also help the city/region to raise awareness and present the benefits that their cycling policies and accomplishments provide to their citizens, businesses and others. This could lead to enhanced public support for further pro-cycling measures.
Economic benefits
The EuroVelo Conference promotes and publicises the host city/region by attracting visitors and boosting the local economy. In order to maximise these benefits, tourist and convention bureaus should be involved in the bidding process.
How to apply?
ECF invites all European cities or regions committed to shaping a better future through cycling and sustainable tourism to bid for EuroVelo & Cycling Tourism Conference 2024. The bidding procedure is now open until 15 May 2023. To know more and receive the complete bid documentation, please contact Maria Scandurra at [email protected].
We look forward to submissions and expressions of interest!