Back to all
News
How do e-bikes impact cycling tourism?
Wednesday, March 8, 2023
As e-bikes are more widely used all over Europe and beyond, we must question how this trend influences cycling tourism. What are the specific needs of e-bike users? Our main conclusion is that e-cyclists have quite similar needs to other cycling tourists and quality is essential for both.
The e-bike market in Europe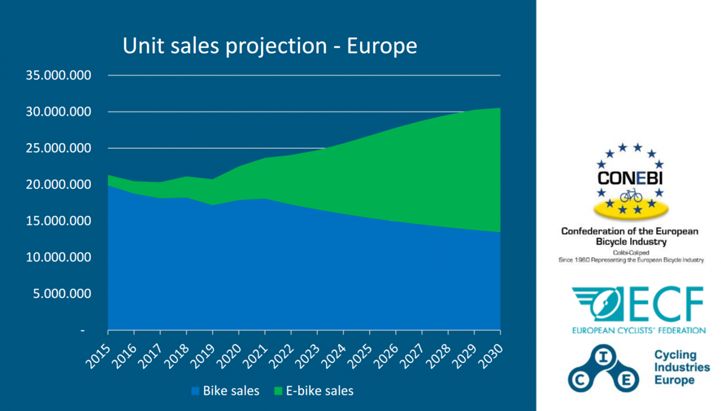 E-bike demand drives the growth of bicycle sales in volume and value, with 5 million units sold in 2021 out of 22 million bikes and e-bikes together, according to a CONEBI report. The same document forecasts an extra 10 million bikes bought each year by 2030, 47% more than the annual number in 2019. The trend is even stronger in Germany, with 42,5% of bike sold in 2021 being e-bikes, as demonstrated by Zweirad-Industrie-Verband. E-bikes are an attractive product for a greener mobility in cities: the electric assistance adds extra comfort to commuting, limiting the physical effort and still being beneficial for people's health.
E-bikes use for cycling holidays: a growing trend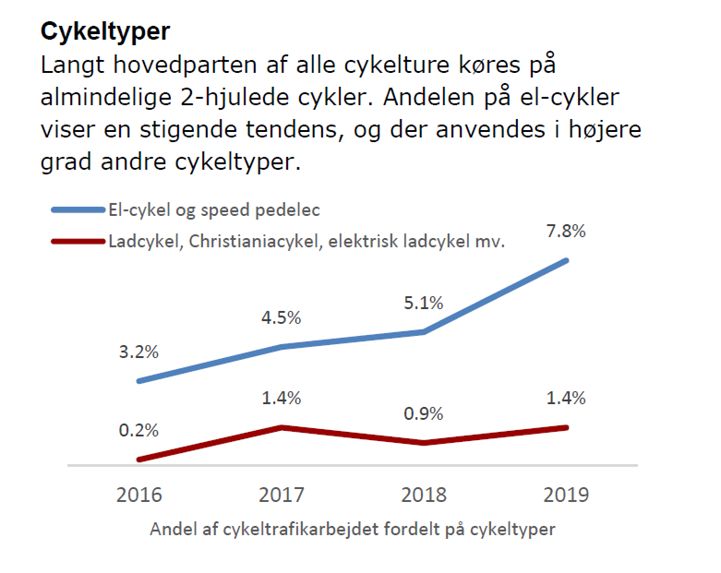 First noticed in cities' streets, the broader use of e-bikes creates new opportunities for cycling tourism. Where long-distance tours or steep inclines would be quite off-putting to many travellers, the e-bike opens the perspective of easier, less athletic, more fun cycling holidays. E-bikes considerably simplify long-distance travel, especially for beginners or those who are not used to doing sports.
They are an increasingly popular option for day trips, too, simply as they extend the possibility of exploring further destinations and looping back the same day.  Moreover, straddling on an e-bike could be a renewed opportunity for cyclists who stopped biking long-distance for health reasons to resume long-distance cycling. 
This trend is demonstrated by impressive national figures: In 2021, 42% of German cycle tourists used an e-bike for their holidays according to the ADFC cycle travel analysis 2022. In the Netherlands, 52% of leisure cycling trips were made on e-bikes during the same year as reported by Fiets Platform ("Recreatief fietsen in Nederland").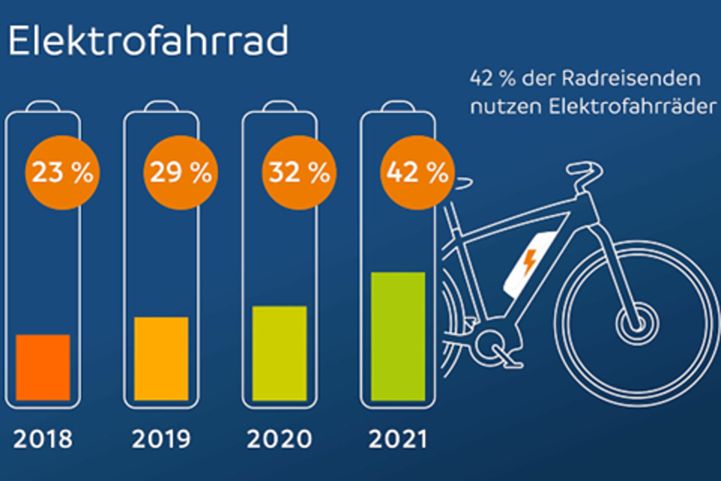 Requirements and opportunities
E-bikes are generally heavier than normal bikes, more expensive and require charging batteries from time to time.
Multimodality is a very important aspect of cycling tourism. The weight of e-bikes can make things more challenging, especially when bikes have to be brought on board of a train or a bus. Moreover, some bus companies do not allow transportation of e-bikes, and the higher weight of e-bikes can affect the risk of mechanic problems.
E-bikes are usually more expensive than normal bikes, which increases the need for quality bike-parking facilities. Accommodations, train stations, site visits, restaurants: at every break, good and safe parking facilities should be made available to enable cyclists to leave their bikes for a moment and enjoy their trip.
The fear of running out of battery can also be difficult to manage for users on the road, but luckily recharging the battery of an e-bike does not require any specific equipment other than a battery charger, a power outlet, and, possibly, a plug adapter for international trips along EuroVelo routes. In consequence, any place which has access to electricity can represent an opportunity to recharge the precious e-bike's battery – a golden opportunity for cycling-friendly service providers, who will likely attract many new electric-powered visitors. 
There have been several improvements to the autonomy of batteries in the last few years, too. Autonomy can go up to 100 km for the most efficient bikes and even more in economy mode. This is more than enough for a typical day of cycling, averaging 65 km. Therefore, a unique recharging session a day is enough and well-equipped cycling tourists could just recharge their e-bike in their accommodation at the end of the day, or at a restaurant during a lunch break.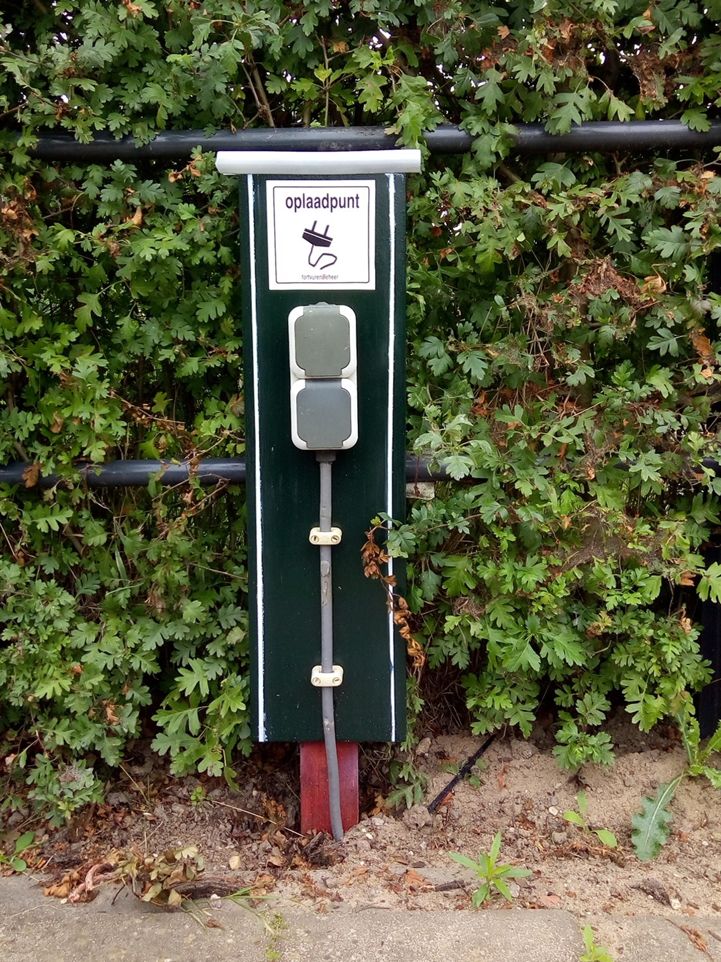 Even though public charging stations for e-bikes may be useful in certain circumstances, some guidelines are to be kept in mind when implementing those:
There are currently two main types of charging stations – fast charging stations and "classic" ones equipped with domestic plugs. The charging time can vary from 30-90 minutes to 8 hours, depending on the station model. The cost of fast-charging stations is also much higher and there is a bigger risk of theft and damage to cables. 
Therefore, the equipment should be chosen carefully as the classic stations are only suitable for cyclists who are not in a hurry and are likely to take (very) long breaks.
On the location topic, it is recommended to prioritise places where people pass through and where they can take a break. A service area where they can recharge their own batteries at the same time as those of their trusty steed, nearby a tourist attraction, is ideal.
Moreover, as the charging time can be of several hours, the station should offer associated services like USB sockets, wifi access and lockers or provide a device for securing the battery or the bike during recharging.  
Finally, another requirement is maintenance and having responsible persons monitoring its use.  Maintenance could be delegated to local tourism and hospitality actors, who are benefitting from the installation, thus creating a win-win situation. Indeed, those actors have a direct interest in keeping the charging station nice and working so that they get more clients.
Are charging stations really needed?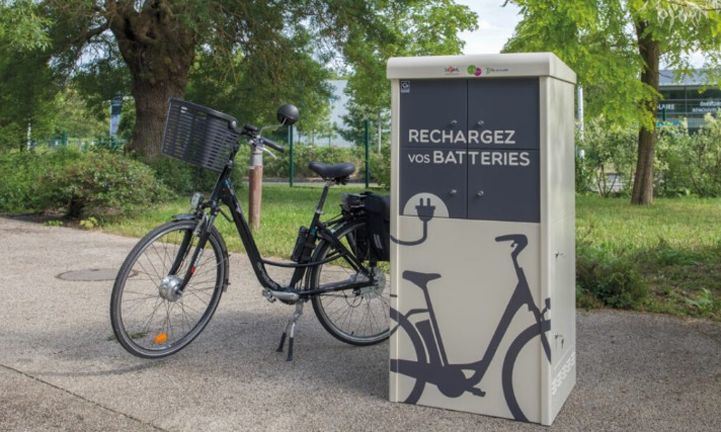 After all, are e-bike charging stations on long-distance cycle routes a must? The European Certification Standard (ECS), designed by ECF to assess the quality of cycle routes, mentions charging stations in the services category. However, "charging station is available on every daily section" is an additional criterion (find more information on the three categories of criteria in the manual here). It means that it is considered to be an option, and it depends on the aspiration level of the actor managing the cycling route, as this is a need only for the cycle tourists with specific demands.
In the end, the infrastructure is still a more important key point to invest in, in order to attract cycling tourists. The first priority should remain to have high-quality routes to support more cycling tourism in general, including on an e-bike.
All in all, it seems that tourism actors are the best relays for a local recharging offer: by offering the possibility to recharge e-bikes' batteries and providing other cycle-friendly services, accommodation providers and restaurants can get extra clients and visibility. Ensuring that such services are well advertised is likely to reassure users and encourage the practice.
French National EuroVelo Coordination Centre, Vélo & Territoires, has been collecting best practices on this topic that you can find in French following this link.
Author: Alexandra Fournier
Cover picture: © Alexandre Rodier | EntreTierras