Back to all
Event
EuroVelo & Cycling Tourism Conference 2023 - Izmir
Tuesday, April 11, 2023
Learn more about the programme, the theme and the host city on the event website and join us in Izmir, Türkiye from 11 to 13 October 2023. Registration is available until 1 October 2023.
The EuroVelo & Cycling Tourism Conference is the prime event bringing together all actors involved in the cycling tourism sector. It offers an excellent platform for debate and exchange about the latest developments and ideas in the world of cycling tourism. The 2023 edition will be held in the scenic town of Izmir, Türkiye, located on EuroVelo 8 – Mediterranean Route, and is co-organised by the European Cyclists' Federation (ECF) and the Türkiye Tourism Promotion and Development Agency (TGA).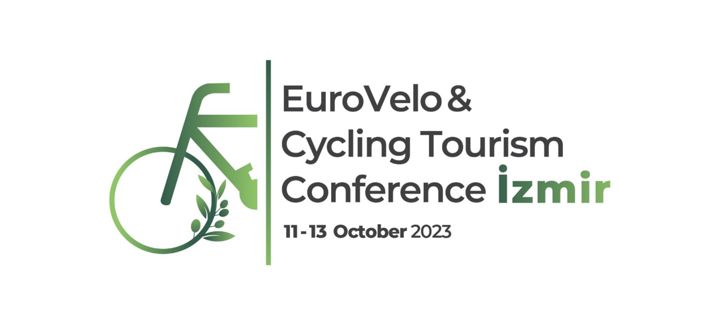 By exploring the theme 'Cycling: a new perspective on heritage', the Conference encourages participants to consider the role of cycling in shaping cultural and natural heritage and boosts debate on best practices and innovative approaches. Izmir is the perfect setting for such discussions, as its history dates back 8,500 years and it is the region of the UNESCO World Heritage Sites of Ephesus and Pergamon.
The website euroveloconferenceizmir.com is your reference for the most updated and detailed information about the event, the theme, and the programme. A programme has been published and you can register to the EuroVelo & Cycling Tourism Conference until 1 October 2023.
The website also provides useful information on the host city and on everything you need to know to plan your stay in Izmir.
On 11 October, the EuroVelo & Cycling Tourism Conference 2023 will start with a welcome cocktail at the historical Gas Factory, one of the symbols of the city's industrial heritage. Swissotel Büyük Efes will host the delegates and speakers for an inspiring second day of lectures and sessions, while the scenic Agora will be the scene of the EuroVelo Conference dinner in the evening. On 13 October, a technical visit to the best locations along and around EuroVelo 8 – Mediterranean Route will be an occasion to discover cycle-friendly services, infrastructure projects and initiatives in the town of Izmir.