Back to all
News
Cycling the Atlantic Coast Route: Detailed analysis shows growth in usage of EuroVelo 1 during last years
Wednesday, May 17, 2023
ECF and Eco-Counter have published an analysis going in the details of usage of EuroVelo 1 - Atlantic Coast Route as part of the AtlanticOnBike project extension.
In the framework of the AtlanticOnBike project, Eco-Counter performed a detailed analysis of cycling traffic along the 11,000 km long EuroVelo 1 – Atlantic Coast Route over the last four years for ECF. This included both a longitudinal analysis of cycling traffic over time between 2019 and 2022 with a sample of 101 counting sites having recorded sufficient data over this period, and a spatial analysis of cycling traffic levels with a sample of 143 counting sites, including more recently installed counters.
For the analysis over time, the results are rather positive: compared to 2019, cycling traffic grew by 10% in urban areas and 9% in rural areas in 2022. In 2021, growth was even higher: +14% in urban areas and +15% in rural areas, again compared to 2019. In 2020, despite strict lockdowns and movement restrictions being in place during parts of the year, annual growth was still +10% in urban areas and +2% in rural areas. In general, the results of the analysis show a more consistent growth in urban areas, meaning that pandemic travel restrictions and extreme weather have probably had a greater impact on rural bike activity than in urban areas.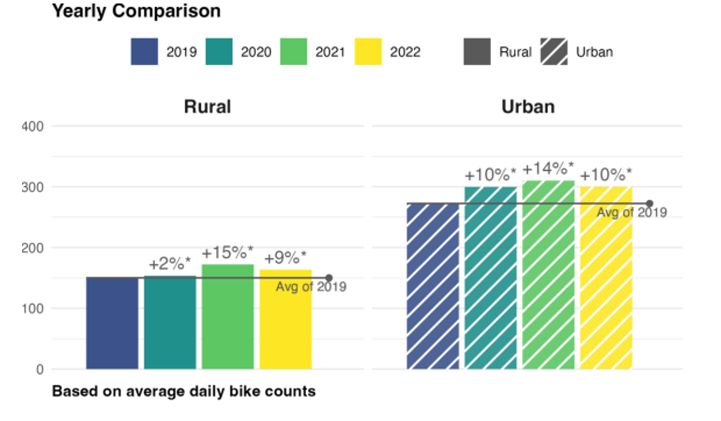 The analysis was also carried out per three-month season. Almost every season from 2020 to 2022 demonstrated significant growth in bike counts along the route when compared to the same season in 2019. The only exceptions are the spring of 2020, which was a period of lockdown for most European countries, and summer 2022, which included a prolonged and extreme heat wave in all countries along the Atlantic Coast Route. In rural locations associated with leisure cycling, counts have significantly increased in the fall season +39% and +35% in 2021 and 2022 vs fall 2019), which could be attributed to warmer temperatures during these periods, facilitating post summer tourism. Consistent increases compared to 2019 have also been experienced in winter and spring.
Rural sites experience considerably more seasonal effects than urban sites
In the summer months, the average rural site experiences the same level of activity as urban sites. However, in the shoulder season and especially the winter, urban sites have significantly more activity. Looking at the countries along the route, France and Norway experience greater seasonal effects than the UK, Ireland, Spain and Portugal. France and Norway have strong summer peaks in bicycle activity and both have winter retention rates between 15 20 %. Looking at hourly traffic over the day, the results show that the use of the route is not dependent on the day of the week. Usage peaks are in the late morning and in the early afternoon. It is also evident that weekend usage is significantly greater than weekday usage, which could be linked to the high proportion of counters in rural areas in the longitudinal sample.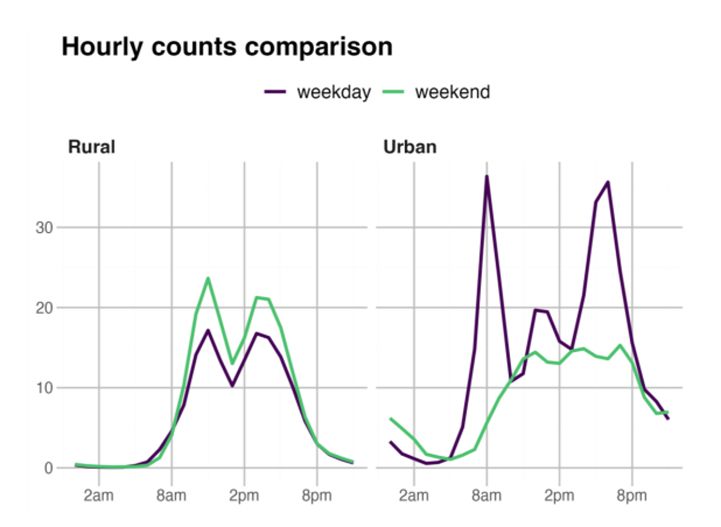 The spatial analysis showed that the average counting site in France experienced more bicycle activity than in other countries, with an average of 233 bike passages per day in 2022. Portugal, on average, had the second highest activity with 149 bike passages per day on average. Some segments of the Atlantic Coast Route (when broken into 100 km sections) had daily bike passages between 600 and 900 on average throughout 2022. This concerns for example the French departments with the greatest bicycle use along the route, including Vendée, Gironde and Pyrénées Atlantiques. Most departments on the Atlantic Coast Route in France have a similar monthly profile with peak bike activity in July and August; however, Loire has a broader profile with peak activity extending from May until September. The data from 2022 confirms the findings from the longitudinal analysis on France's high level of seasonality, as well as Portugal and Spain's stability in bike counts throughout the year.
You can find the full report on the EuroVelo for Professionals website.


Author: Holger Haubold