Back to all
Event
ITB Berlin 2020
Wednesday, January 22, 2020
ITB Berlin 2020 has been cancelled due to the unpredictable risks of the Corona virus. Whilst it is sad news, considering the effort that was put into preparing EuroVelo's presence at ITB and the Cycling Tourism Day, the organisers obviously have to take into consideration everyone's health and safety.
Due to the rapid spread of the new coronavirus (COVID-19) the Federal Ministry of Health and the Federal Ministry of Economics of Germany have stated their opinion that ITB Berlin will be cancelled. The responsible health authority of the district of Charlottenburg-Wilmersdorf in Berlin imposed significantly tighter restrictions on holding the event with immediate effects. Among its requirements the authority stipulated that each participant would need to prove to Messe Berlin that they were not from a designated risk area or had not been in contact with a person or persons from a risk area. It is not possible for Messe Berlin to satisfy these requirements overall.'
EuroVelo will return to the Messe Berlin exhibition grounds for the 2020 edition of ITB Berlin, the world's leading travel trade show! This year it will be held on 4-8 March, 2020. In cooperation with ADFC (German Cyclists' Association), the ECF EuroVelo Team will organise a Cycling Tourism Day on Friday, 6 March.
The EuroVelo booth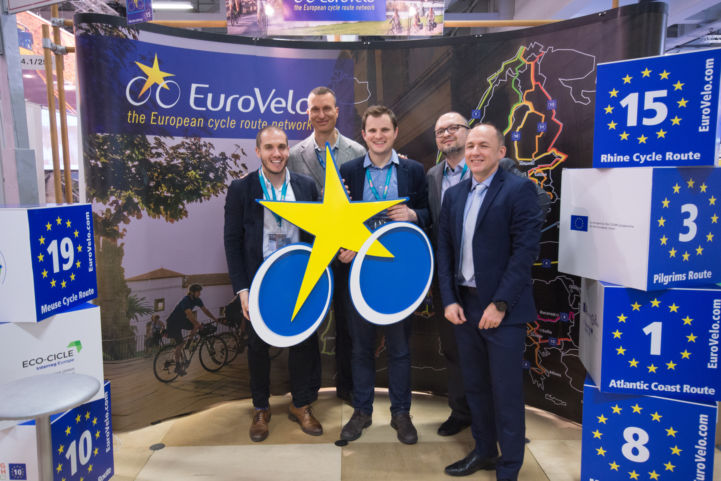 EuroVelo will await visitors at ITB Berlin 2020 in a booth much bigger than in previous years (24 m²), shared with partners from the EuroVelo 1 - Atlantic Coast Route AtlanticOnBike project and the EuroVelo 13 - Iron Curtain Trail Interreg Slovakia-Austria project.
This year's ITB is also supported by the EuroVelo 8 - Mediterranean Route MEDCYCLETOUR project and the EuroVelo 15 - Rhine Cycle Route and EuroVelo 19 - Meuse Cycle Route long-term management agreements.
Come and visit us at the booth n°241 in Hall 4.1b!
Main highlights
The main highlight of the event will be the release of the new printed overview map of the whole EuroVelo network, realised in the last few months with the collaboration of all National EuroVelo Coordination Centres and Coordinators. The new map presents an overview of the 16 EuroVelo routes on a detailed European map layer, showing the level of development of each route (more information on this topic can be found in our FAQs).
Additionally, this year's ITB will include the launchs of the new developed EuroVelo 1 - Atlantic Coast Route transnational website and the EuroVelo 8 - Mediterranean Route promotional brochure, a handbook of around 100 pages providing a plethora of information to cycle tourists interested in exploring this route, such as tourist information centres, bike repair shops, points of interest along the route, etc.
Cycling Tourism Day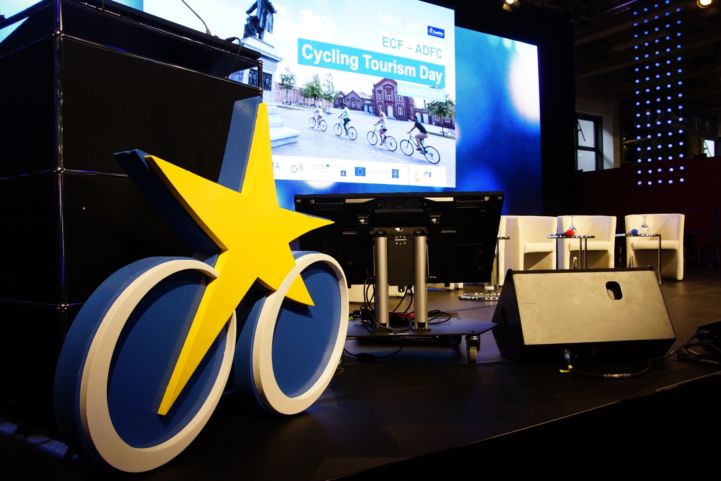 For the third year in a row, EuroVelo will organise the Cycling Tourism Day in Adventure Hall 4.1, in collaboration with ADFC.
This day full of presentations and discussions with leading experts from ECF, ADFC and other cycling and tourism organisations will include a panel discussion on the development of cycling tourism in natural areas, linked to the ongoing ECO-CICLE project. The Cycling Tourism Day is also the occasion to highlight successful long-term developments such as EuroVelo 15 – Rhine Cycle Route and EuroVelo 19 – Meuse Cycle Route.
Please find below the programme of this year's Cycling Tourism Day:
11.00 > 12.00 - MAIN STAGE
Making a difference: Cycling Tourism in Numbers
Ed Lancaster, Senior Policy Officer, ECF
Fong Choo Leong, Bicycle Tourism Officer, ADFC
Jesper Pørksen, Director, Danish Cycle Tourism
Daniela Serrão, Technician in Public Transport and Soft Mobility, AMAL - Comunidade Intermunicipal do Algarve, Portugal
+ EuroVelo Announcements
Moderator: Frank Hofmann, ADFC Deputy Chairman
Visitors will be welcomed for a networking lunch as part of the Cycling Tourism Day from 12.00 to 13.00 at the EuroVelo booth (Hall 4.1b, booth no. 241).
13.00 > 14.30 - ADVENTURE STAGE (Pow-wow Stage)
13.00 > 13.30: Combining cycling tourism with cultural and natural heritage sites
EuroVelo 13 – Iron Curtain Trail on the Slovakia-Austria border (Dominik Hiller, Project Manager for cycling tourism, Weinviertel Tourismus GmbH)
ECO-CICLE: European network for the promotion of cycle tourism in natural areas
EuroVelo 15 - Rhine Cycle Route, and EuroVelo 19 - Meuse Cycle Route (Eric Nijland, Director, Fietsplatform)
13.30 > 14.00: Alpine crossing: Cycle route Munich – Venezia. An example of successful trinational cooperation
Dr. Andreas Wüstefeld, Managing Director, DMO Tölzer Land Tourismus
Claudia Tscherne, Founder of "Weitblick Beratung und Marketing" and "Alps 2 Adria Touristik"
Dr. Marco Oss, President of Adria Bikes Hotel
14.00 > 14.30: Cycling tourism in coastal regions
14.30 > 15:00: Iranian Coast to Coast by bicycle
Cycling from the Persian Gulf to the Caspian Sea (Bernard Phelan, European Marketing Manager, Caravan Kooch Adventure Travel, Iran)
15.00 > 15:30: Discover unassisted ultra-cycling race
The game changer of adventure cycling tourism (Axel Carion, Explorer and Chief Executive Officer, BikingMan, France)
15.30 > 16:00: WORKSHOP
Adventure travel with E-Bikes around the world – Project E-Traction "The Trip" (Susanne Brüsch, Founder and Chief Executive Officer, Pedelec Adventures; E-Bike Ambassador, Germany)
16.00 > 16:30: Sustainable mobility in tourism
Showcasing the North Sea Region Wadden Sea (Dr. Johannes Theissen, Project Manager, Die Nordsee GmbH, Germany)
Follow along and join the conversation using #CyclingTourismITB on Facebook, Twitter and Instagram!
Organised and supported by: