Back to all
Event
Workshop with decision makers in Brussels on developing cycling tourism in the Mediterranean Area
Wednesday, January 22, 2020
On Wednesday 19th February 2020, ECF organises, in collaboration with the Croatian Presidency of the Council of the European Union, a workshop with decision makers in Brussels on cycling tourism in the Mediterranean area.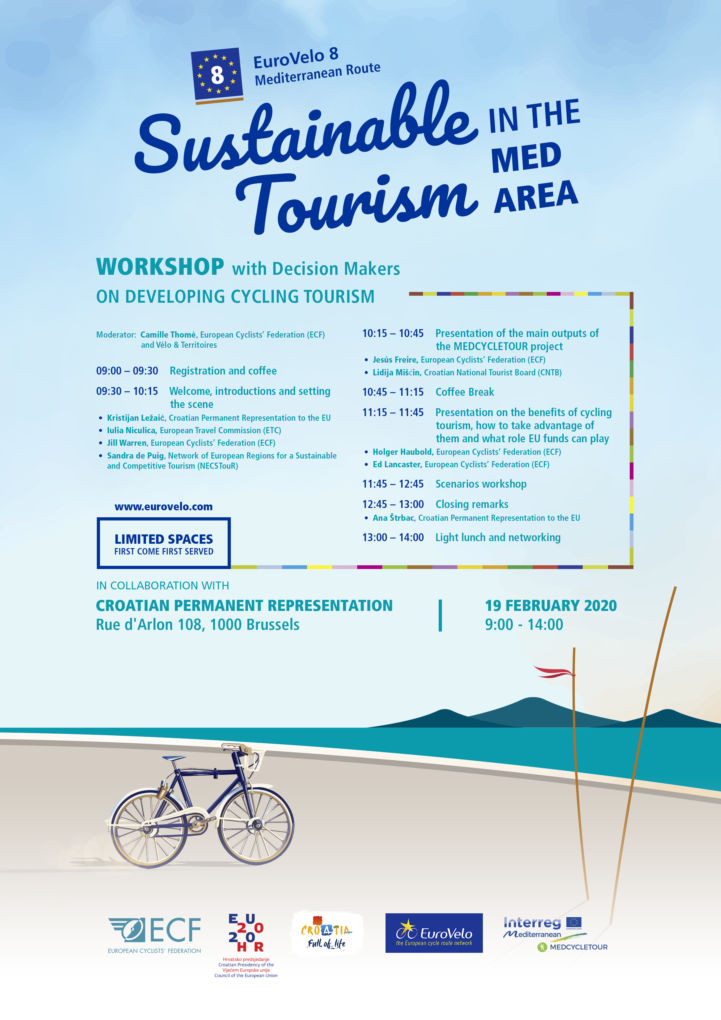 Cover picture: The Sea Organ in Zadar, Croatia, Author: Luka Esenko/CNTB
The event will take place at the Croatian Permanent Representation, Rue d'Arlon 108, 1000 Brussels and will feature contributions on the following topics:
The benefits of cycling tourism for the Mediterranean Area and its contribution to the European Green Deal
How to get the best out of cycling tourism and identifying where the money is available
Discussions and networking lunch
This workshop will also be the occasion to present the results of the EuroVelo 8 - Mediterranean Route MEDCYCLETOUR Interreg Project, a three year project that started in February 2017 and will end in April 2020.
Programme
Moderator: Camille Thomé, European Cyclists' Federation (ECF) and Vélo & Territoires
09:00 – 09:30
Registration and coffee
09:30 – 10:15
Welcome, introductions and setting the scene:
Kristijan Ležaić, Croatian Permanent Representation to the EU
Iulia Niculica, European Travel Commission (ETC) Pdf Presentation
Jill Warren, European Cyclists' Federation (ECF)
Sandra de Puig, Network of European Regions for a Sustainable and Competitive Tourism (NECSTouR) Pdf Presentation
10:15 – 10:45
Presentation of the main outputs of the MEDCYCLETOUR project:
10:45 – 11:15
Coffee Break
11:15 – 11:45
Presentation on what needs to be done to develop cycling tourism and what role EU funds can play:
11:45 – 12:45
Scenarios workshop
12:45 – 13:00
Closing remarks:
Ana Štrbac, Croatian Permanent Representation to the EU
13:00 – 14:00
Light lunch and networking
This workshop is free, but registration to the event is mandatory.
Makarska Riviera, a beautiful natural area on the way of EuroVelo 8 in Croatia, Author: Vjeko Begović/CNTB