The MEDCYCLETOUR project was based on EuroVelo 8 – Mediterranean route and aimed to develop cycle tourism in the Mediterranean region by providing transnational tools to attract visitors. Funded by the Interreg Mediterranean Programme, the project had a budget of over €2.5 million.
MEDCYCLETOUR was a three year project that started in February 2017 and ended in August 2020. It was taking place along the long-distance cycling route EuroVelo 8, which connects many destinations that are popular tourist attractions in their own right: Cádiz, Barcelona, Monaco, Venice, the Croatian Coast, Cyprus – the list goes on. It is little surprise therefore that the Mediterranean Route receives more interest than any other EuroVelo route. And whilst many of its destinations are already internationally famous, there are still lots of undiscovered gems to be found along the way, not least in Albania and Montenegro.
The ECF was one of 10 partners from 7 different countries covering the Mediterranean Route in its entire length:
Spain
Andalusian Government – Agency of Public Works (lead partner)
Andalusian Ministry of Development and Housing
Catalonia Region
France
Italy
Friuli Venezia Giulia Region
Province of Mantova
Slovenia
Regional Development Center of Koper
Croatia
Croatian National Tourism Board
Cluster for Eco-social Innovation and Development
Cyprus
Cyprus Tourism Organisation
Greece
The project also included 8 associated partners: Liguria Region, City Council of Mantova, Emilia-Romagna Region, Province of Ferrara, Italian National Tourism Board, Girona Greenways Consortium, Veneto Region and Province of Malaga.
At the end of the project, a Charter for Sustainable and Responsible Cycling Tourism in the MED Area was prepared by PP1 - ECF and signed by many stakeholders. This Charter will serve as a tool to transfer the knowledge accumulated during the project. The Charter is a perfect tool to involve stakeholders across the Mediterranean region in the development of cycling tourism and EuroVelo 8 – Mediterranean Route.
Charter for Sustainable and Responsible Cycling Tourism in the MED Area (click to enlarge):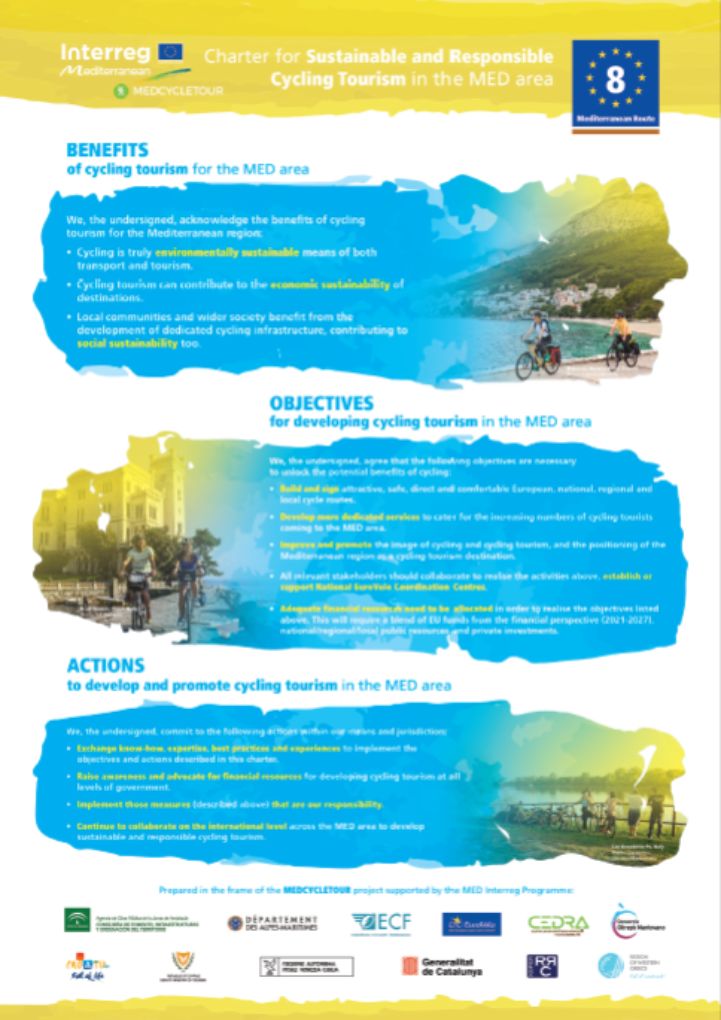 The Charter is downloadable here.
Background document (click to enlarge):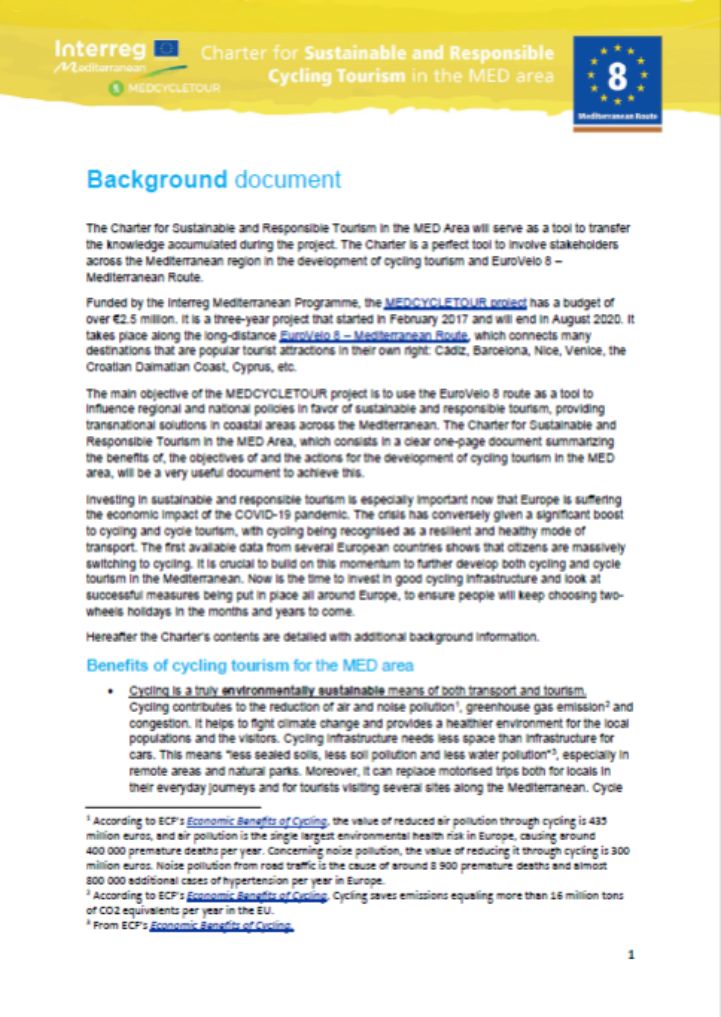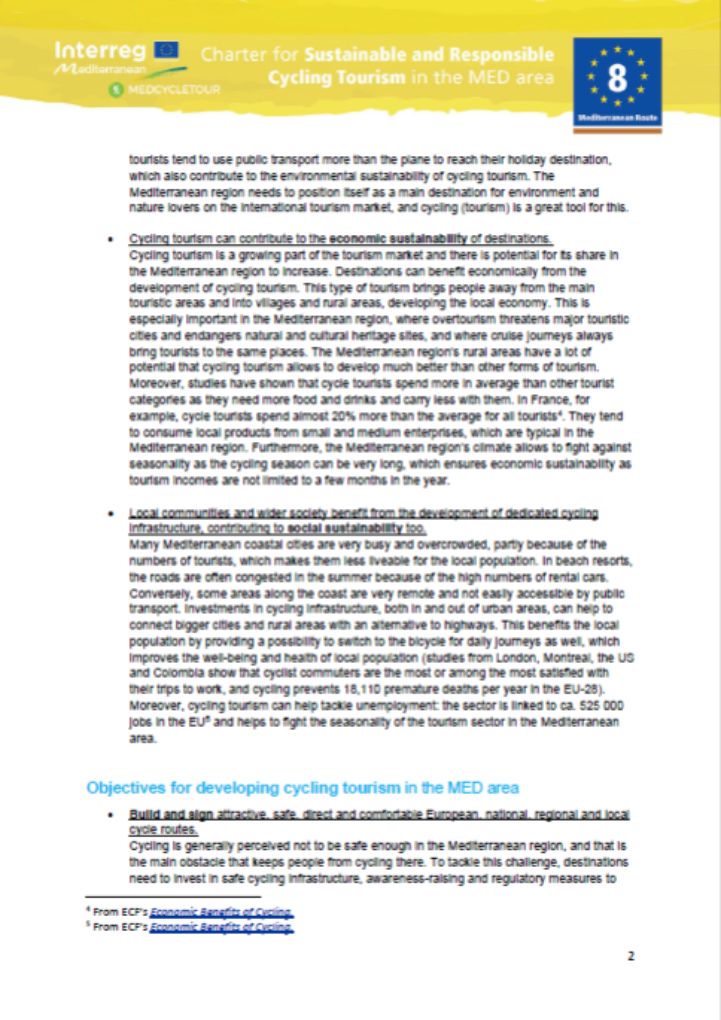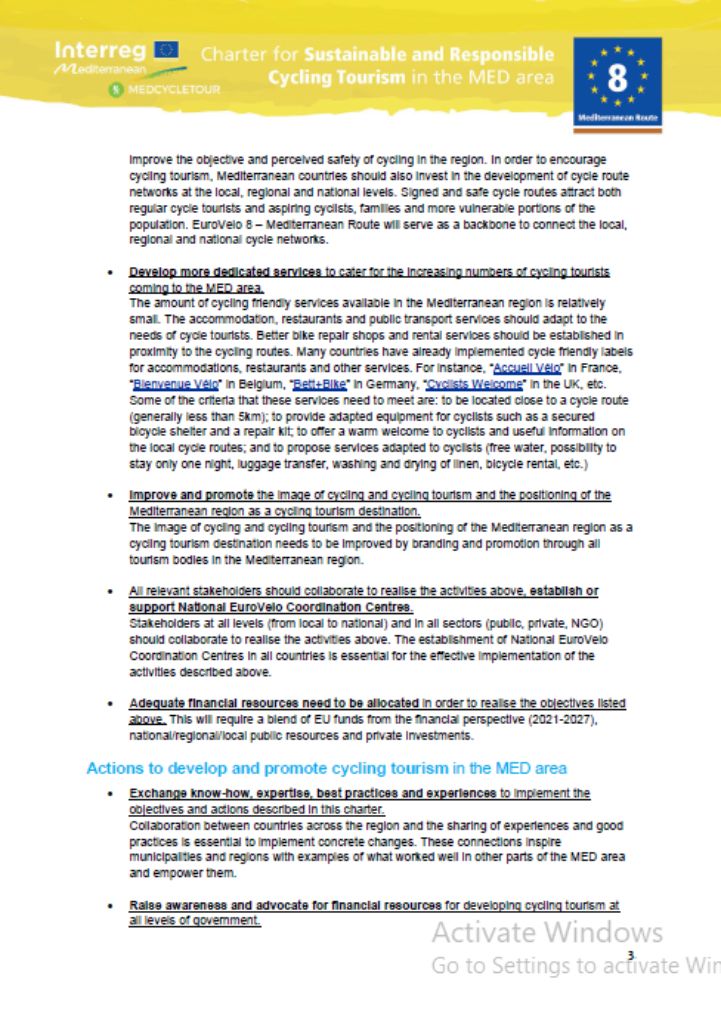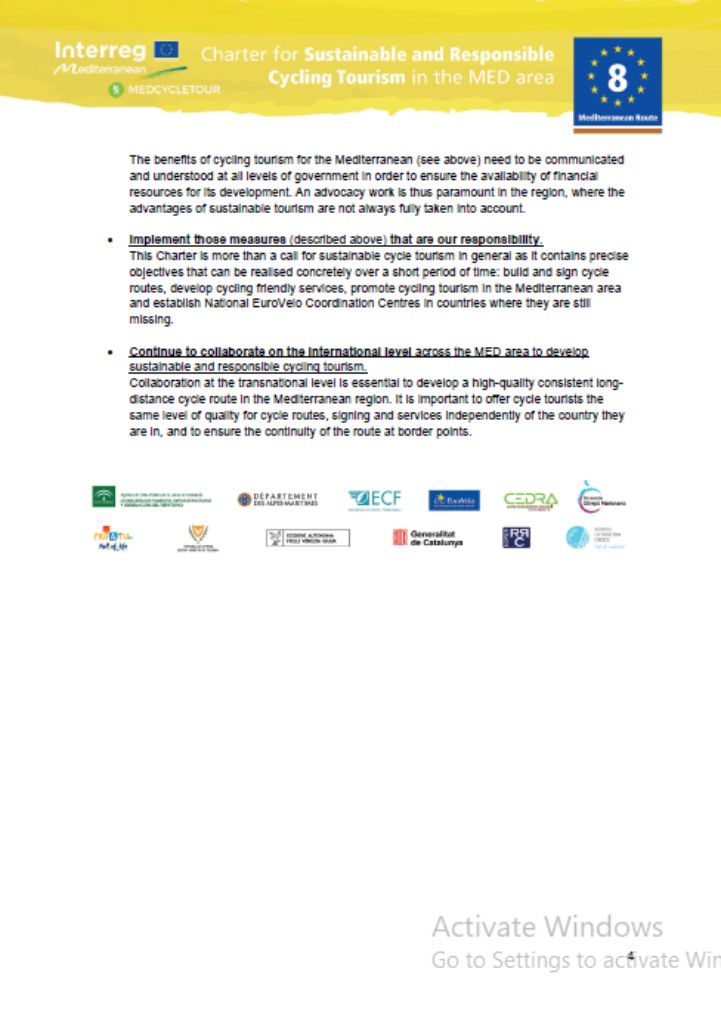 The background document is downloadable here.
For more information about EuroVelo 8 – Mediterranean Route please visit the route website and the MEDCYCLETOUR project website (some project deliverables are available there).