Back to all
News
Reaching new heights: ever-increasing growth for EuroVelo websites
Thursday, February 20, 2020
The latest EuroVelo web statistics continue to improve on previous years' record-breaking numbers of visitors to our websites. This improvement reflects and supports the growth of EuroVelo and cycle tourism generally.
The recently compiled EuroVelo web statistics report for 2019 shows that the EuroVelo web platform was visited by more than 1.35 million users with over 1.86 million web sessions. This represents an overall increase of 15.7% in users and 6.8% increase in web sessions when compared to the previous year. This growth looks even more impressive considering that there was a transition to a different web structure in the middle of last year. The new web solution improved the design and usability of the site and added several features (such as interactive maps, etc.). It also brought the user and the professional parts of EuroVelo closer together. Combined with the recent figure of 90,000 km of cycling routes, it is safe to say EuroVelo network is the biggest cycle tourism initiative of its kind in Europe.
Mobile usage and search performance
While desktop devices stay the most preferred way of browsing the website, mobile usage is gradually increasing for most routes. Several routes already have a higher percentage of mobile users than desktop users such as EuroVelo 1 – Atlantic Coast Route and EuroVelo 3 – Pilgrims Route. This bodes well as the new EuroVelo web platform was designed with a modern and easy to use mobile interface in mind. In addition, more than 50% of the traffic to the website was by organic searches meaning people are willingly searching to discover more about EuroVelo routes and cycle tourism.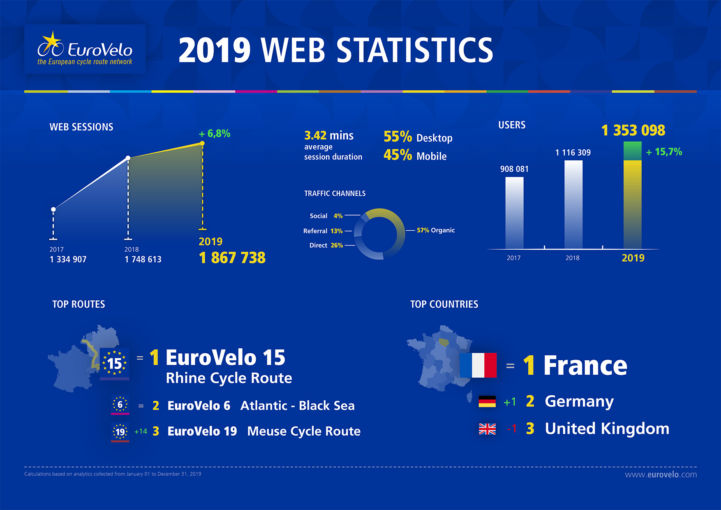 Route and country rankings
There was an increase in visits for most EuroVelo routes this year, however, EuroVelo 15 – Rhine Cycle Route was once again the most visited route website (234,000+ web sessions), followed closely by EuroVelo 6 – Atlantic-Black Sea (151,000+ sessions) and the latest addition to the network EuroVelo 19 – Meuse Cycle Route (133,000+ sessions). This marked the highest increase of any EuroVelo route to date. France remained the most visited country with over 222,000+ visitors and 335,000+ web sessions – on par with previous years' performance. Other countries with high number of visitors include Germany and the United Kingdom.
We would like to thank our partners and other stakeholders that helped to promote the European cycle network. In return, we hope our growth led to more people visiting their websites as well. Most importantly, we thank our visitors who continue to take interest in EuroVelo. Your support encourages us to keep on improving each year!
Author(s): Omer Malak
Cover picture: South Wales, © Paul Cheese