Back to all
News
New EuroVelo Press Kit published
Thursday, April 23, 2020
Get a glance at the European cycle route network with the latest facts and figures. Now in an easily digestible format.
With each passing year, the EuroVelo initiative, developed and coordinated by the European Cyclists' Federation (ECF), continues to grow at a rapid pace. It may get a bit difficult to stay on top of every new development shared on a daily or monthly basis through our newsletter, website and social media. As such, we have prepared an easily digestible pack of resources for those who would like to communicate about the most up-to-date information available on the network.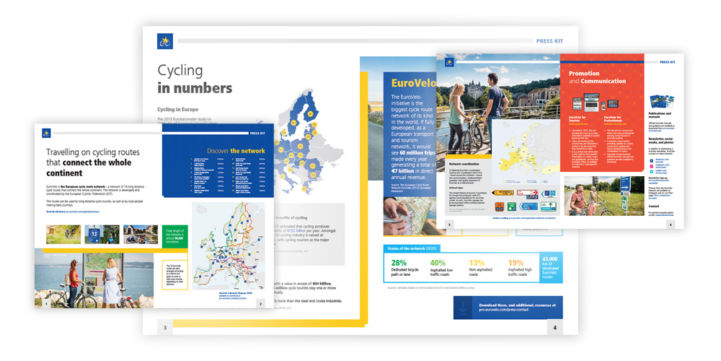 The biggest element of this pack is a short Press Kit. This document gives overview of the network of 16 EuroVelo routes that cross and connect the whole continent: how it is operated, coordinated, promotion, and communication carried out by ECF and the National EuroVelo Coordination Centres and Coordinators.
You will also find a collection of key facts and figures about cycling tourism in Europe. For instance, the €44 billion in annual revenue linked to cycling holiday trips and the current status of the developed part of the EuroVelo network, which is estimated to be more than 43,000 km as of 2020. These infographics are readily available to download and share at your convenience.
You can download all these resources (and more) at our updated Press page.
A general FAQ about the network is also available at this page.
For any other questions please send us an email at eurovelo@ecf.com.
Author(s): Omer Malak