Back to all
News
Celebrating #WorldTourismDay on a bicycle
Tuesday, September 29, 2020
Sunday was World Tourism Day. The United Nations World Tourism Organization (UNWTO) designated this year's 40th edition to "Tourism and Rural Development" by the United Nations. Let us have a closer look at what role cycling tourism can play in this.
The tourism sector is among one of the hardest hit by the COVID-19 pandemic. With travel restrictions all over the world, virtually everyone, including us, needed to adjust their summer holiday plans. As much as this is annoying to travellers, it puts many people working in the sector into a precarious situation. With this year's World Tourism Day theme "Tourism and Rural Development", the UNWTO emphasised how the pandemic is threatening those living in rural areas most.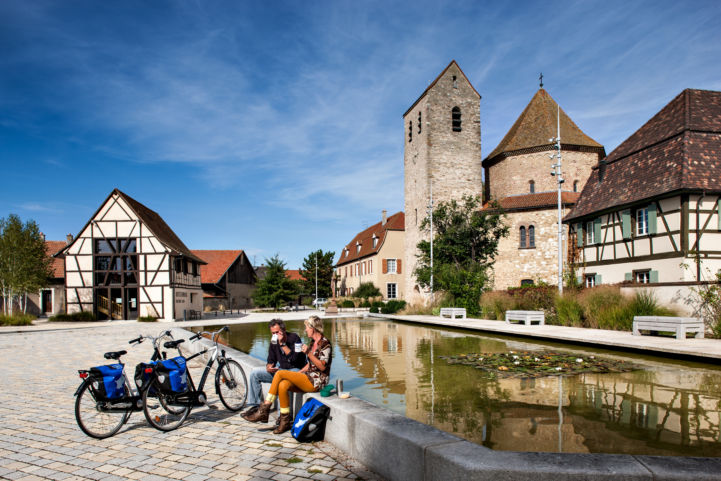 Cycling tourism offers great opportunities for the recovery from this crisis as well as for a transition to greener tourism much needed in the shadow of the climate and environmental crises. This is especially true for rural and regional areas since cycling tourists do not fly over or rush through those areas but immerse themselves in them. In fact, researchers found that meeting new, local people and direct contact with nature are key motivations for cycling tourists. In these areas, every small business or additional service adds to the promotion of cycle-tourism and, in return, benefits from it.
A different study found cycle tourism in areas "not characterized by mass tourism" to be economically and socially beneficial. Additionally, the researchers emphasise also the environmental benefits of cycling tourism, especially if paired with trains for travel journeys over longer distance. A combination the ECF is trying to encourage through its campaign on "Trains for cyclists". Additionally, since cycling tourists typically do not stay at one place but, for example, ride along the EuroVelo Routes, their spending is spread along the route also benefiting the rural areas they cycle through.
So, what is needed to establish more and better rural and regional development through cycling tourism? Apart from strengthening the combination of bicycle and train, researchers observed the planning and provision of infrastructure and information to be crucial. No coincidence then that these are also key objectives for EuroVelo.
References:
Bakogiannis, E.; Vlastos, T.; Athanasopoulos, K.; Christodoulopoulou, G.; Karolemeas, C.; Kyriakidis, C.; Noutsou, M.-S.; Papagerasimou-Klironomou, T.; Siti, M.; Stroumpou, I.; Vassi, A.; Tsigdinos, S.; Tzika, E. (2020). Development of a Cycle-Tourism Strategy in Greece Based on the Preferences of Potential Cycle-Tourists. Sustainability, 12, 2415.
Gazzola, P., Pavione, E., Grechi, D., & Ossola, P. (2018). Cycle tourism as a driver for the sustainable development of little-known or remote territories: the experience of the Apennine regions of Northern Italy. Sustainability, 10(6), 1863.
Ritchie, B. W., & Hall, C. M. (1999). Bicycle tourism and regional development: A New Zealand case study. Anatolia, 10(2), 89-112.
Author: Jonathan Hirschhäuser