Back to all
News
ECO-CICLE Good Practices: Services to Cyclists
Friday, November 6, 2020
The four good practices presented in this article have been selected in the frame of the ECO-CICLE project and focus on developing advanced services dedicated to cycle tourists such as multimodal connections along cycle routes, cycling-friendly accommodation, bicycle travel certifications and culinary options.
The ECO-CICLE project, running from June 2018 to June 2022, is an Interreg Europe project. One of the key deliverables of this project is the selection and dissemination of 12 good practices, meaning successful initiatives (e.g. methodologies, projects, processes or techniques) carried out under one of the Interreg Europe Programme's topics – in this case, the 'Environment & Resource Efficiency'.
The focus on good practices aims to foster interregional learning on bringing cycling tourism and environment's protection together. These practices highlight great achievements in cycle tourism across Europe, belonging to 7 fundamental categories: infrastructure, advanced services, cycle tourism in natural areas, promotion, financing, planning & management and intermodality. Read more in our previous ECO-CICLE Good Practices articles: "Connecting Spaces through Cycle Networks" and "ECO-CICLE Good Practices: Protected areas' recovery and heritage".
This third and last article of the series focuses on initiatives from Slovenia, Germany, France and Belgium.
Establishing multimodal connections along the Adriabike cycle route – BikeBus and BikeBoat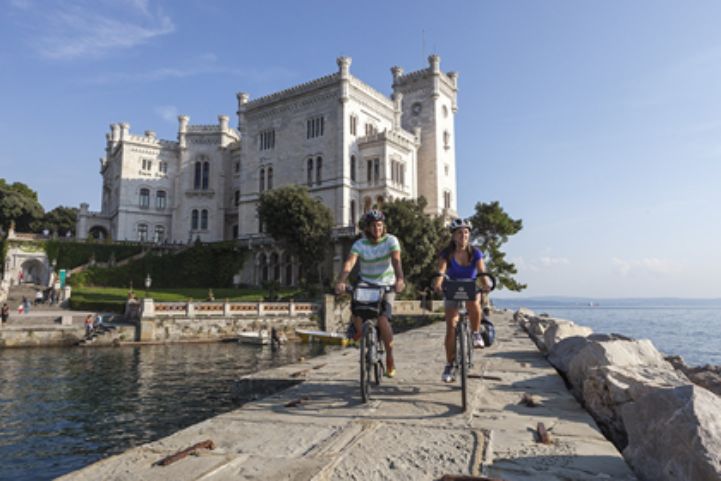 This first good practice, coming from Slovenia, aims to implement sustainable mobility proposals along cycle routes in order to reduce the impact of traffic on the environment. Multimodal bicycle-by-bus and bicycle-by-boat transport services were implemented along the Adriabike cross-border cycling path, connecting Italy and Slovenia. This good practice belongs to the 'Intermodality' category in the frame of the project.
The cycle route connects an area of 1,000 km, with most sections passing across public space and on low traffic roads to secure the safety of cyclists. The services put in place help to improve the cross-border mobility of cyclists and the connectivity between urban centres and the countryside. This practice comes from two Interreg Europe Projects: INTERBIKE and INTERBIKE II.
As part of a first INTERBIKE project started in 2014, a bicycle-by-bus service was implemented, connecting Grado with Udine and Trieste. Following the success of this project, the Friuli-Venezia Giulia Region introduced several bus lines for bicycle transport in the following years, financed by the Region. Within the INTERBIKE II project, two cross-border bus connections for bike transport were introduced during summer 2018 and 2019, connecting Koper (Slovenia) with Grado (Italy) and Cormons (Italy). 200 cyclists used it in 2019.
Regarding management, the project represents the launch of a cross-border integrated development planning for cycling and other forms of mobility in the region. It also includes the establishment of a cross-border project Committee for sustainable mobility and tourism. It generally promotes collaboration between local authorities and other stakeholders for the preparation and implementation of carbon reduction strategies.
However, the long-term promotion of the route remains a challenge and a management structure should be set up to promote the Adriabike route as a tourist product and to coordinate tourist service providers along the route. The creation of such an entity is still underway in order to ensure the long-term success of the route.
More information on the Adriabike cycle route can be found on www.adriabike.eu.
Bett+Bike by ADFC (Allgemeiner Deutscher Fahrrad-Club e.V.)
Bett+Bike is a well-known certification initiated by ADFC. It aims at easily identifying high-quality bike-friendly accommodation across Germany and some other European countries. With this initiative, ADFC also strives to make bicycle trips easier in general and more comfortable. This good practice was proposed by Aufbauwerk Region Leipzig for the 'Advanced Services' category.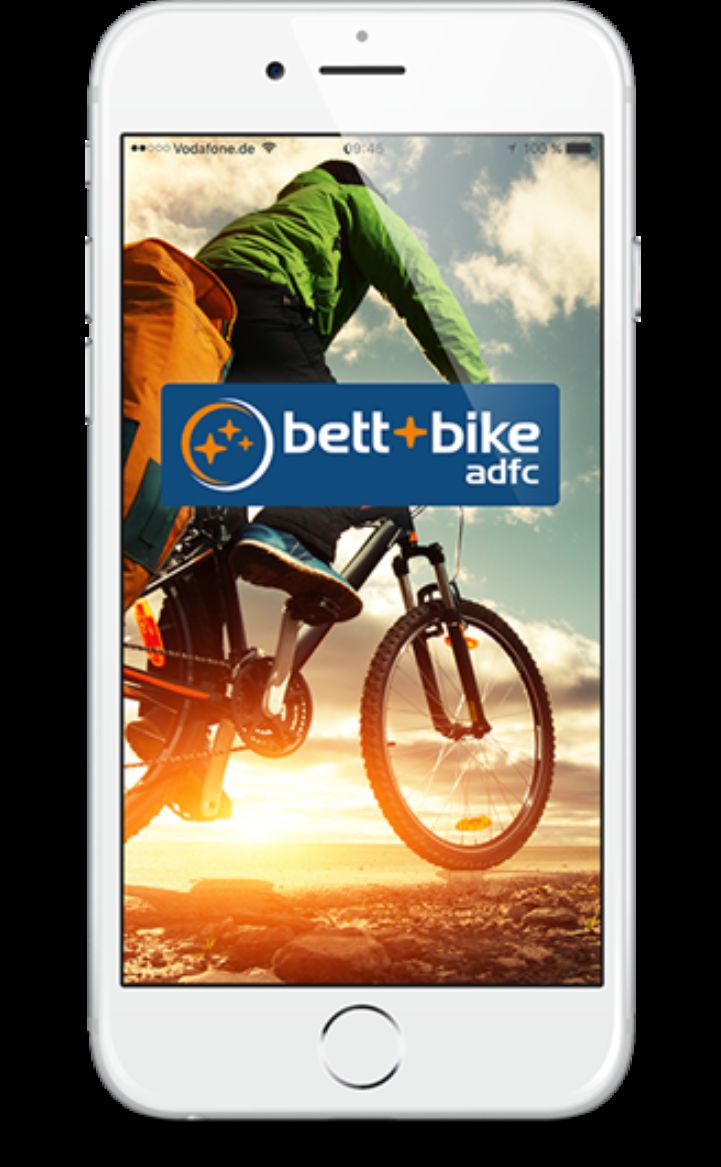 On the Bett+Bike website and corresponding mobile app, cycle tourists can choose from among 5,800 certified hotels, guesthouses, youth hostels and campsites across 4,000 towns in Germany and Europe. The search functions allow to filter businesses according to the user's needs and to display them on a map.
In all Bett+Bike accommodation, cyclists can rely on a quality standard and bike-friendly on-site services. The Bett+Bike certificate requirements for accommodation are:
Possibility of a one-night stay
Lockable space for storing the bikes overnight
Room for drying clothes and equipment
Full breakfast
Information on regional offers for cycle tourists
Basic repair kit and information on repair shops
Some accommodations additionally offer cooperation with a bike repair shop, luggage transfer to the next accommodation or the possibility of e-bike rental.
The project started back in 1995. At the time, 216 accommodations were incorporated in the Bett+Bike network, and this amount has now risen to 5,800, revealing the increasing importance of cycle tourism. This quick growth brought some challenges in the checks for compliance with quality standards. But on the other hand, the increase of non-validated services such as Airbnb showed the importance of promoting the reliability of the Bett+Bike certification.
This good practice has a high potential for transfer as the Bett+Bike structure, and the experience acquired in the management of this network, can be a direct source of inspiration for developing similar networks across Europe. Moreover, it would be a major step in the promotion of cycle tourism to create a European network connecting bike-friendly accommodation and ensuring a certain level of quality.
More information on the Bett+Bike certification can be found on www.bettundbike.de.
LEBONPICNIC - Locally-sourced picnics available for cycle tourists in France
LEBONPICNIC is a good practice coming from the Maine-et-Loire department in France and focusing on good food options for cycle tourists. This online marketplace connects cycle tourists with local artisan food makers. The proposed service is very easy to use as customers can order their locally made picnic online and pick it up the next day, following a "click & collect" approach. Moreover, it brings together economic, ecological and health advantages:
The picnics are made by artisan food makers using fresh, seasonal and local products, which means this good practice supports local SMEs and food traditions.
The use of local products combined with local supply chains, efforts to avoid food waste and eco-friendly packaging indicate that this good practice is sustainable.
As it proposes high-quality food consumption to cycle tourists for no more than €11-€16 on average, this good practice is also healthy and affordable.
This growing initiative currently comprises 34 food makers, including restaurants, bakeries and delicacy stores. Folllowing its establishment in 2016 with 16 food makers, LEBONPICNIC saw a steady growth and won the "Palmes du Tourisme Durable" sustainable tourism award in December 2018 in the Start-up category for its innovation, sustainability and potential to scale the service. It catered to 1500 clients in 2019, 25% returning to order again. And it is currently developing new picnic destinations in several French departments.
Financially, this good practice is based on partnerships with destinations and local communities to implement the service, membership fees and commissions on transactions. However, LEBONPICNIC is currently seeking a €200,000 investment to develop and scale the service.
A difficulty encountered in the development of this service was to encourage family businesses to move online and invest in marketing – or sometimes, even to find qualified food makers situated close to cycling routes. But this good practice has a lot of potential to create short circuits of cooperation between local tourists, farmers, food businesses and the local community. It is a good tool to allow SMEs to compete with corporations.
More information on LEBONPICNIC can be found on www.lebonpicnic.com.
Cycling through the Trees
The last good practice included in this article strays a bit from the topic of services to cyclists 'per se', but is still related as it proposes an unusual experience which can transform a regular bicycle ride into a unique experience. "Cycling through the Trees" is a good practice belonging to the 'Promotion' category and situated in the Bosland forest by Hechtel-Eksel in Belgian Limburg.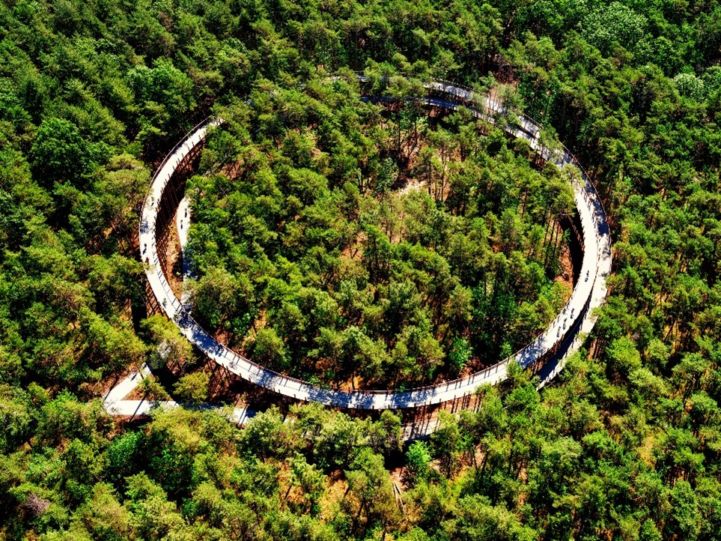 A cycling experience was created in this forest with the installation of an elevated cycle path. This 700-m long circular path rises to a height of 10 meters and gives cyclists and walkers a sensational 360° experience of the forest. Forest management was included in the development processes since the beginning to make sure the interventions would not affect the natural environment. Care was also taken during the design of the project that the structure fits well into the environment, and the path is maintained by steel pillars symbolising the straight trunks of pine trees.
The "Cycling through the Trees" project is led by Visit Limburg with financial support from LSM, the municipality of Hechtel-Eksel, Visit Flanders and the province of Limburg. Design and construction works took place from 2016 to 2019 and the cycle path is open to the public since June 2019. The opening was a huge success, partly due to the popularity of "Cycling through Water", another project of Visit Limburg. This good practice won an Iconic Award in 2019, a gold medal at the 2020 International Design Awards and already had over 200,000 visits from cyclists.
This good practice can inspire other cycle projects in natural areas similar to the Bosland forest, as it is an example of an intervention that amplifies a visitor's enjoyment of the landscape without devaluing it. As a part of the Cycling through the Trees project, Bosland is even improving the forest management with a woodland management plan.
More information on "Cycling through the Trees" can be found here.
Find out more about ECO-CICLE on the project's website.