Back to all
News
Cycling events not to miss for your 2022 agenda
Friday, January 21, 2022
As cycling tourism continues to boom in Europe, it is important to keep up to speed with all the latest developments across the continent. So grab a pen and your calendar!
Cycling tourism is booming in Europe, latest data show growing numbers of riders on EuroVelo routes and users on EuroVelo website. In this article we have highlighted some of the most relevant meetings for the year ahead for anyone involved in cycling tourism or cycle route development. It is a collection of online and in-person events that will offer opportunities to innovate, discover and network.
Publication of EuroVelo and Cycling Tourism Conference 2023 bid manual - March 2022
We will soon open the bid for cities to present their candidacies to host the EuroVelo and Cycling Tourism Conference 2023. These conferences have been held every other year since 2012 to share knowledge, highlight good practices and encourage further development of the EuroVelo network and cycling tourism generally across Europe. Stay tunned for more information.
ITB Berlin – 8 to 10 March 2022
ITB Berlin is 'The World's Leading Travel Trade Show' and a traditional meeting place for the cycling tourism sector. Unfortunately, due to the current situation with the pandemic, an in-person edition of ITB Berlin 2022 had to be cancelled again. However, the ITB Berlin will bring together tourism professionals and key players from the global travel industry for some online events at this time. More information can be found on their website.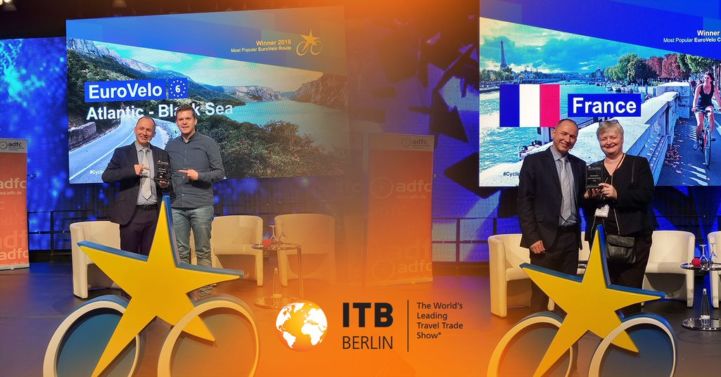 EuroVelo Routes Inspector Training 2022 – 26-27 April 2022
Every year, the ECF offers a training session for future EuroVelo Route Inspectors. The participants learn how to survey cycling routes using the methodology and software provided by the ECF. The training courses are based on the European Certification Standard (ECS) for long-distance cycle routes. This years' EuroVelo Route Inspector Training will be organised by ECF on 26-27 April 2022. You can find further details here. Registrations to the training are now opened by filling in this form.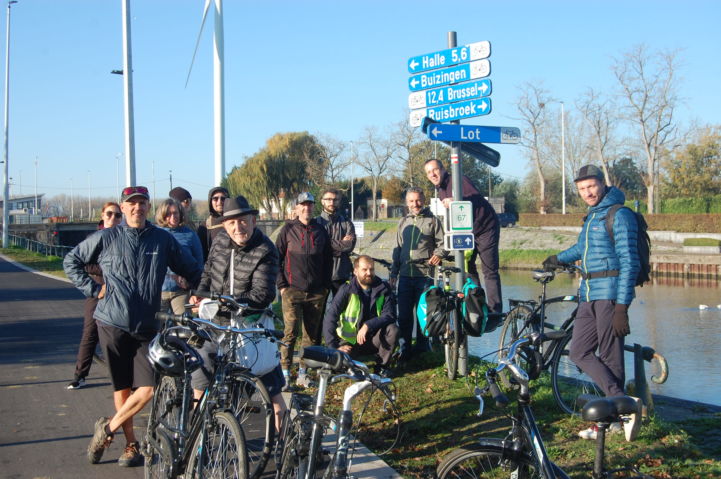 BAM! Bicycle Adventure Meeting 2022. 10 to the 12 June. Montova. Italy
BAM! is the first European meeting for cycle-travellers. Group rides, workshops, meetings, speeches, contests, books, music, parties. An important event dedicated to cycle tourism and adventure in Europe, returns to Mantua from 10 to 12 June 2022. Check their website for more information.
Velo-city Ljubljana – Cycling the change, Slovenia. 14 to the 17 June 2022
Celebrating cycling and all its benefits on World Bicycle Day (3 June) will be followed by the World Cycling summit: Velo-City 2022, which this year will take place in Ljubljana, the capital of Slovenia from the from 14 to 17 June. The Velo-city conference is ECF's annual flagship event, organised together with the host city each year. Velo-city is the world cycling summit serving as a global platform for knowledge exchange and policy transfer. The Slovenian capital is ready to welcome the conference to contribute in promoting cycling as a sustainable and healthy means of transport for all. Velo-city brings together a growing number of more than 1,400 participants from over 60 countries who are involved in the policy, promotion and provision for cycling, active mobility and sustainable urban development. The conference exhibition showcases the latest innovations for a better cycling experience in cities and beyond! This year, under the motto 'Cycling the change' the focus will be put on five aspects: rethinking urban space, focusing on citizens, stakeholders, and communities, advocating for a better integration of cycling in many crucial policy areas. Pushing for more green and sustainable tourism through and assessing the impact of cycle tourism on the economy will also be much focused on as well as Improving sustainable urban mobility. Find out more about the exciting 2022 programme on the Velo-city website.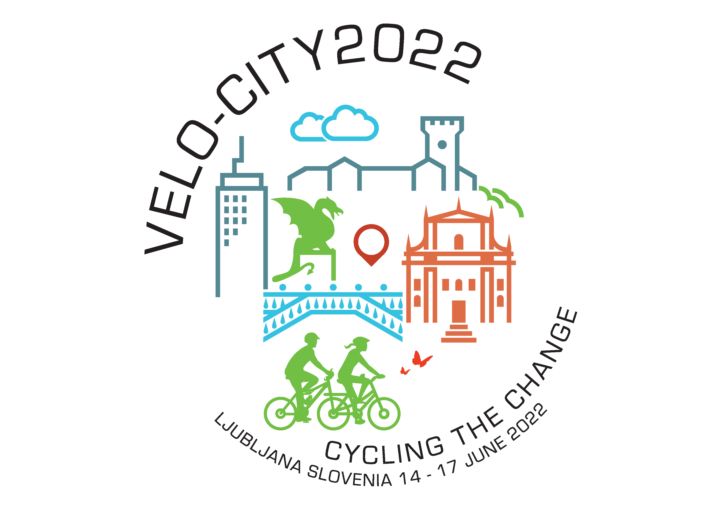 TRAVEL TALK at EUROBIKE, Frankfurt, Germany. 13-17 July 2022
The 21st edition of TRAVEL TALK forms part of the Eurobike conference, which will take place for the first time in a new location: Frankfurt. TRAVEL TALK brings together bike industry and tourism professionals on the international level. The newest trends and innovations will be presented and discussed. Stay tunned for more information about EUROBIKE and the TRAVEL TALK conference here.
(French) National Cycling Tourism Conference. Bourges, France. 5 October 2022
Vélo & Territoires, our French National EuroVelo Coordinator Centre coordinates this important biannual conference on cycling tourism in France. The Cher department and the Centre-Val de Loire Region invite you to the next edition which will take place on 5 October 2022 in Bourges, the day before the Vélo & Territoires' 26th annual meeting. Find more information here.
Cycle Summit in Chambéry, France – 8 to the 11 October 2022
Cycle Summit is the annual meeting of cycling tour operators worldwide. In 2022, it will take place in the city of Chambery, in the French Alps. The summit allows tour operators to come together and share their experiences, ideas for new products and network. Check their website for more information. A reminder that tour operators can add bookable offers on our website.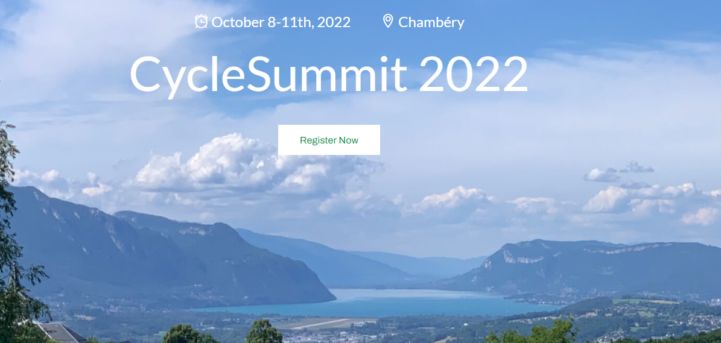 25 Years of EuroVelo, online event – 21 November 2022
After all these years of coordinated efforts, the vision of a European cycle route network has become a European success story!
To mark this milestone of the EuroVelo network that has done so much to lay the foundations for cycling tourism in Europe, we will be celebrating the 25 years of EuroVelo with an online event on 21 November 2022.
You can find more details about the program and register here!
"Tourism on Bike" webinar – 22 (FR) and 29 (NL) November 2022
Save the date : « Tourism on bike », le webinaire belge sur le tourisme à vélo en Belgique !
Save the date: "Tourism on bike", the Belgian webinar on bicycle tourism in Belgium! Join Pro Velo to find out about the latest trends and the key figures for bicycle tourism. "Tourism on Bike" will give you an overview of regional projects in Belgium and Europe and highlight inspiring bike tourism projects in Europe. When? 2 dates: Tuesday 22 November in French and Tuesday 29 November in Flemish. Interested? You can register here.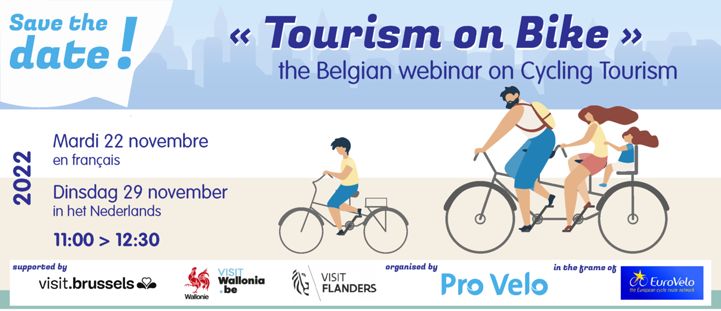 Missing some events? With the current health situation there has been some iconic events that have been postponed for the following year and others haven't still decided whether they will be held virtually or in person. We will keep our site up-to-date with any changes. You can also check ECF's calendar to expand information on this year's cycling events
And let us know if there are any that we have missed!