Back to all
News
2022 continues to be a strong year for cycling on EuroVelo routes, latest figures show
Wednesday, December 21, 2022
New data from Eco-Counter's network of automatic bicycle counters show 11% growth of usage from January to October 2022 compared to the same period in 2019.
The trend that had already emerged from earlier analysis has once again been confirmed: 2022 has been a very strong year for cycling on the EuroVelo network. With the newest figures in from Eco-Counter's network of automatic bicycles counters on EuroVelo routes, we can see that usage has grown 11% from January to October 2022, compared to the same period in 2019. Growth has been high both on weekdays (+10%) and on weekends (+14%), indicating stronger usage of the network both for leisure and for utilitarian cycling.
All ten EuroVelo routes that are being monitored at the moment showed growth compared to 2019, both on weekdays and on weekends. The routes with the highest full-week growth rates were EuroVelo 17 – Rhone Cycle Route (+34%), EuroVelo 8 – Mediterranean Route (+18%) and EuroVelo 5 – Via Romea (Francigena) (+15%).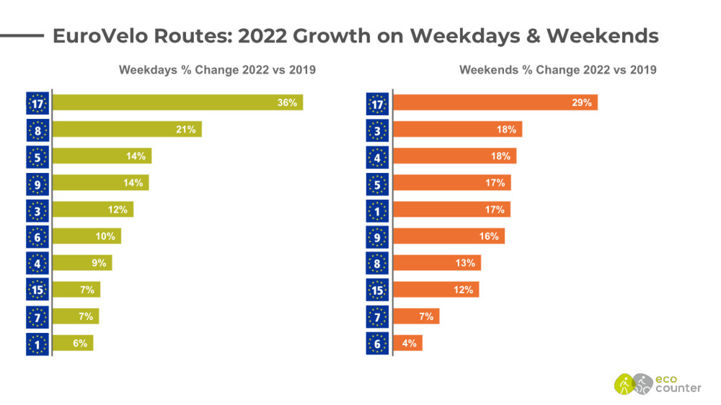 The analysis, which was presented by Eco-Counter at the 25th anniversary event of the EuroVelo network on 21 November, also looked at long-term trends for two routes where enough automatic counters have been present to track ridership development over a longer period of time. These were EuroVelo 6 – Atlantic – Black Sea, where usage has tripled between 2011 and 2022, and [https://en.eurovelo.com/ev7 EuroVelo 7 – Sun Route , where it increased b]y 37% between 2015 and 2022. Two examples of individual counting sites from these routes were presented as well: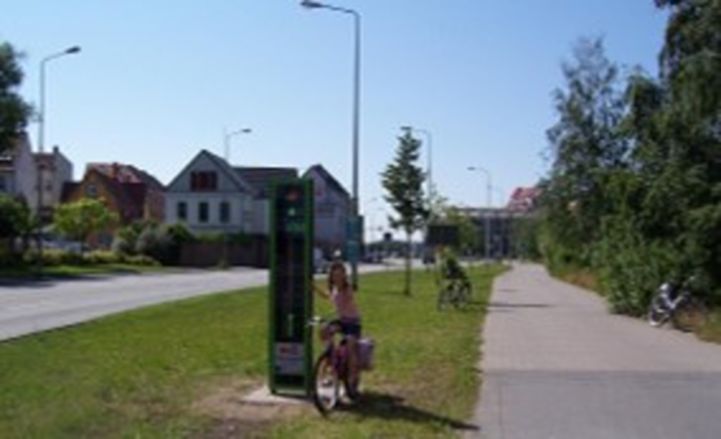 - Le Pellerin on the French section of EuroVelo 6 – Atlantic – Black Sea, where usage had increased by a whopping 60% from January to October 2019 to the same period in 2022. Audrey De Coster from the Loire-Atlantique Department, who manages the counting site, stated: "The consistent increase in cyclists at this site is mainly due to a significant increase in cycle tourists… who bike the Loire from Nantes to Saint-Brévin. Despite this predominance of tourist trips, there are certainly utilitarian trips as well. We observe a constant increase in flows during the week."
- The counting site "Am Strande" on the German section of EuroVelo 7 – Sun Route, managed by the Hanseatic City of Rostock, recorded a usage increase of 11% since 2019. Marius Nath, the city's Cycling Coordinator, stated: "The long-distance cycle route Berlin-Copenhagen has had an influence cycling numbers, especially since 2020, as bicycle tourism has increased nationwide."
Information about data collection
This publication on the usage of the EuroVelo network is based on a partnership between ECF and Eco-Counter. The two organisations have joined forces to work together closely in collecting, analysing and communicating data related to the EuroVelo network at the European level. The aggregated results for the usage of the EuroVelo network in 2022 so far are based on data from a sample of 170 automatic counters installed by Eco-Counter and its local partners. For the sample, we have selected counters where we found that there was a minimum level of representativity, both in number of counters and in number of countries along the route represented. This is currently the case for EuroVelo routes 1, 3, 4, 5, 6, 7, 8, 9, 15 and 17. We publish data on the usage of the network as a whole, and on featured routes, regularly. In the future, we hope to be able to grow this sample and make it even more representative, as more counters are placed along the routes all around Europe. Follow the latest data available on the EuroVelo Data Hub.
Author: Holger Haubold