Back to all
News
New EuroVelo Usage Monitoring Report shows a strong growth of cycling
Thursday, May 4, 2023
ECF and Eco-Counter are proud to launch a new periodical report on EuroVelo route usage. The first edition of the EuroVelo Usage Monitoring Report shows a strong growth of cycling in 2022 compared to 2019, both on weekdays and weekends, on all the 10 observed EuroVelo routes.
Providing access to timely and relevant data is one of the key fields ECF wants to develop in order to support the further growth of EuroVelo and cycle tourism in Europe. Therefore, we are happy to present you with the first edition of our new EuroVelo Usage Monitoring Report together with our collaboration partner Eco-Counter. In this report, you will find up-to-date figures about changes in frequentation of EuroVelo as a whole and currently 10 individual EuroVelo routes, based on the extensive network of automatic counters installed by Eco-Counter. In addition to the figures, we are also trying to give you some context and analysis concerning the observed changes.
Details about the traffic and most frequented routes can be found in the Report, which is accessible at this link as well as in the Resources section of the EuroVelo for Professionals website. The report is part of the wider EuroVelo Data Hub, where useful data about the growth of EuroVelo is gathered and constantly updated.
The first edition of the report shows strong figures for EuroVelo as a whole: from 1 January to 31 December 2022, 11% more cyclists used EuroVelo routes for their holidays or leisure trips, or for commuting compared to 2019. In the specific, the usage grew by 9.7% on weekdays and 14.3% on weekends. If compared to 2021, usage is quite stable on weekends, but increased by 8,3% on weekdays – a likely sign that more and more people are choosing the bike to commute or move around in cities.
It is interesting to note that growth in 2022 was higher in winter, autumn and spring than during summer, likely due to the heatwaves that hit most of Europe. All ten observed EuroVelo routes saw an increase in traffic: EuroVelo 17 – Rhone Cycle Route saw an impressive 35% increase, followed by EuroVelo 8 – Mediterranean Route (+21%) and EuroVelo 5 – Via Romea (Francigena) (+16%).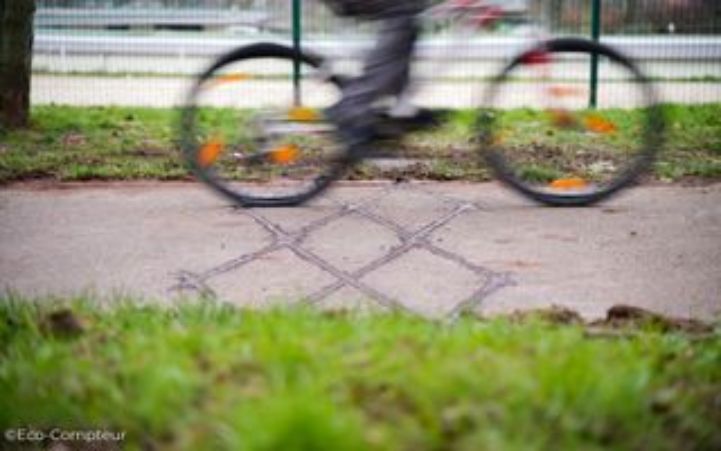 The 2022 EuroVelo Usage Monitoring Report is a joint publication of ECF and Eco-Counter. The two organisations joined forces to work closely together in collecting, analysing and communicating data related to the usage of EuroVelo at the European level since 2021. The aggregated results are based on data from a sample of 170 automatic counters installed by Eco-Counter for its local partners. For this sample, we have selected EuroVelo routes where we found a minimum level of representativity, both in the number of counters per national section of a route (depending on the population density of the country in question) and in the number of countries represented along the route, with data available since 2019 for comparison purposes. This is currently the case for ten EuroVelo (1, 3, 4, 5, 6, 7, 8, 9, 15 and 17), and a heatmap of the sample can be found in the 2022 EuroVelo Usage Monitoring Report.
In the future, we hope to grow this sample and make it more representative, as more counters are placed along EuroVelo routes all around Europe.