Back to all
News
ADFC Bicycle Travel Analysis 2023: cycling tourism in Germany keeps growing after the pandemic
Thursday, March 16, 2023
ADFC – National EuroVelo Coordinator for Germany – presented the latest data about cycling tourism in Germany at ITB Berlin on 9 March. Cycling tourism is back to solid growth and getting closer to pre-pandemic levels in 2022. Several stretches of EuroVelo routes are among the most frequented in the country.
The newly published ADFC-Radreiseanalyse is the latest of yearly reports issued by ADFC, the German National Bicycle Club on the status of bicycle travel in the country. Germany is one of the most bike-enthusiastic countries in Europe and has a large market for leisure cycling and trips. Three out of four German residents are using a bike for daily commuting, sport or travelling (shorter, day trips or longer trips). One of the key findings is that 4,6 million German residents have done a cycling trip in 2022, a significant growth compared to the numbers of 2021 (3,9 million) but still not as high as the pre-pandemic levels (5,4 million in 2019). The trend is however very positive.

The 2023 Bicycle Travel Analysis is based on a sample of 12,500+ completed questionnaires from two national panels and from users who were contacted on the ADFC channels. The extensive analysis presents findings on several topics related to leisure bicycle use in Germany. This article highlights three issues that are worth considering and analysing from a European perspective.
EuroVelo routes continue to be among the most popular
Germany has ten EuroVelo routes – the highest number in Europe, together with France. From the ADFC research, the most popular long-distance cycle routes in Germany largely follow rivers or the Baltic Sea coast – and they often are part of EuroVelo Routes, too! In detail:
The favourite international destination for German cycling tourists is Italy, followed by Austria and then France.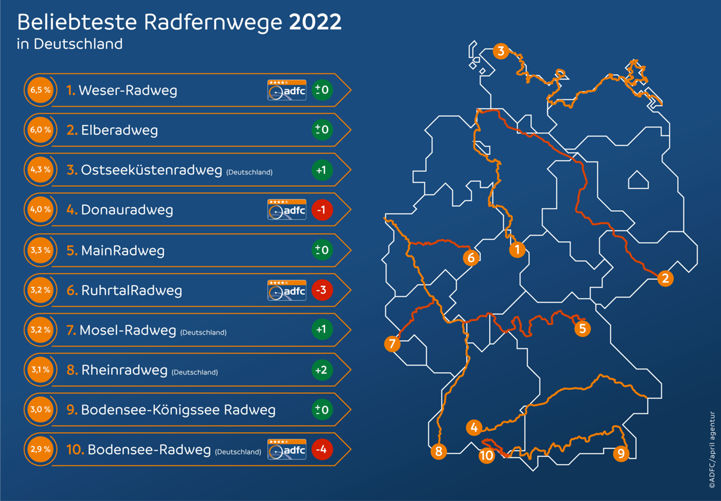 The limits and challenges of multimodality
In this new analysis, ADFC stresses the importance of multimodality. The interaction of cycling tourists with public transport has increased, likely as a consequence of the 9-euro train ticket made available in Germany in 2022. For day trips that did not start directly at their home, 29% of cyclists used the train in 2022, compared to 24% in 2021. At the same time, car use in this group decreased from 67% to 60%.
However, there is still a long way to go to make users fully satisfied with the service: 75% of them report the lack of space for bikes on trains, while other attention points are the bike-friendliness of train stations and the need for more comfortable spaces in the trains for cycle tourists. As more and more cycling tourists choose public transport, it is necessary that transport companies adapt their offer to accommodate these customers and their beloved bikes. These data confirm the trends highlighted in the Cyclists Love Trains report issued by ECF in 2021, which sets the German rail company as fifth in Europe for bike-friendliness.
E-bike usage is still relevant, but slightly shrinking
The use of e-bikes on cycling trips is increasingly popular, leading to questions and debate on how cycle routes and services need to adapt to this new trend (read our recent article on the topic). The ADFC Analysis 2023 shows that a smaller percentage of users – 38%, compared to 42% in 2021 – used an e-bike in the previous year. Over the next years, it will be interesting to observe if this is only a temporary setback in the use of e-bikes. Users report that the main reasons to use an e-bike are the possibility of cycling longer distances and exploring areas that would be more challenging to reach otherwise – such as hills or even mountains.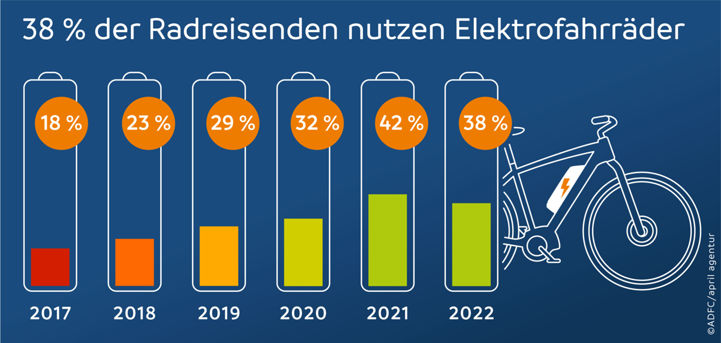 The complete ADFC Bicycle Travel Analysis 2023 is available in German and in English on the ADFC website.
To compare the evolution of cycling tourism in Germany, check out last year's article on the topic on Pro.EuroVelo.com.
Author: Jessica Casagrande