Back to all
News
A stellar year for EuroVelo digital platforms
Monday, June 19, 2023
It is said good things come to those who wait, and we have plenty of good news to share in our latest EuroVelo Digital Statistics report!
It's here, it's expanded and it's better than anything we have produced before! Okay that might be an exaggeration, but what better way to hype up the release of 2022's digital stats in the middle of 2023? Good things take time, and we are proud to report that EuroVelo platforms are thriving in an increasingly digital world.
This time around, we took a different approach by increasing the scope of the analysis to more than just the website metrics. The EuroVelo Digital Statistics report now includes figures for EuroVelo web, social media, newsletter, GPX downloads, and search engine results. Such a rich concoction of digital bliss! Let's take a deep dive below.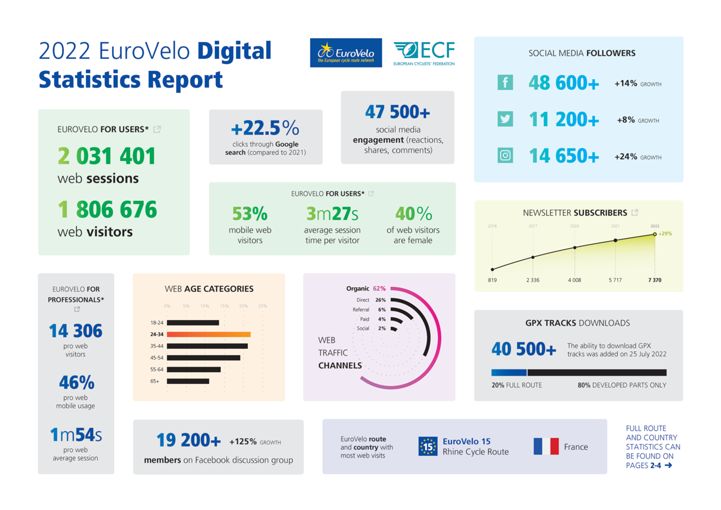 Website: more people searching for EuroVelo and cycling tourism
In 2022, EuroVelo.com registered more than two million sessions spread across more than 1.8 million users1. Data for Google search results also showed a 22.5% increase in traffic to the website. In general, organic (search) traffic accounted for 62% of all web visits, confirming a strong performance on search engine results and in terms of user intention to look for cycling tourism. The average session duration was more than three minutes with most users browsing on the mobile version of the website. The 24-34 age group was the most populous and there was a 40% female readership2. These insights allow us to paint the profile of an average EuroVelo.com user: aged 24-44, likely to identify as male, finding the website on a search engine using their smartphone or tablet, and browsing for at least three minutes. How's that for a party trick!
The website dedicated to cycling professionals, accessible at Pro.EuroVelo.com, saw more modest figures overall, however, it serves as a hub for a very niche and targeted audience. Honestly, it might just comprise of our Head People-Herder and Meme Librarian, Jessica. Needless to say, it remains an essential space for the latest news and developments across the network, of course.
Route and country rankings: Rhine Cycle Route and France stay dominant
The annual rankings reaffirm the almost unshakable positions of EuroVelo 15 and France as the most visited route and country pages for another consecutive year. Our trailblazing French Ambassador of Buzz, Alexandra, was thrilled to learn that her compatriots also brought the most national traffic to the website. EuroVelo 8 jumped up to number three on the list with great organic growth, followed by EuroVelo 1 and EuroVelo 19 to round off the top five routes. All the routes mentioned so far have active partnerships with ECF which shows the importance of continuous transnational cooperation. Plus, you don't want to miss out on the unique metaphors of our Chief Collector of Business Cards, Ivan. Come partner with us.
Social media and email: great strides across all channels and the discussion group
At the end of 2022, EuroVelo social media channels had a combined follower count of 74,000+, with 47,000+ interactions (reactions, shares, comments). In particular, the EuroVelo Facebook discussion group saw an incredible 125% growth in membership. Instagram had the highest increase (24%) in followers, and, as of mid-2023, it is within striking distance of the 20K milestone. All this was achieved without sacrificing any firstborns and/or selling any souls to Mark "Eye of Sauron" Zuckerberg. Although we have been searching for our certified fluent-in-emoji intern, Eulalie, at the time of writing this. Hmm.
On the topic of selling out, our email channel, with the monthly EuroVelo Newsletter saw great growth in 2022 as well. We now stand at more than 7,300 avid subscribers standing back and standing by at our beckoning in a library along a EuroVelo route near you.
GPX downloads: appeasing the desire for a long-awaited feature
With many clenching fist and red-font-written emails flooding the inbox of our resident Route Whisperer, Florence, we finally caved in and added the ability to download GPX files on the website in July 2022. This long-anticipated feature was met with high demand as it accumulated more than 40,000 downloads within a period of just five months. Please consider supporting us to keep the files up-to-date and available to download, and to add plenty more wheels of gerbils to keep powering our servers.
All (terrible and esoteric) jokes aside, 2022 was yet another stellar year in the growing influence of EuroVelo and its digital platforms. A big thanks to our partners and other stakeholders that helped to promote the network. And thank you to our visitors for their continued interest in EuroVelo! (promise this last bit was not written with our Vibe Manager, Agathe, standing behind me!)
This report forms part of the wider EuroVelo Data Hub which contains updated key figures and useful resources to monitor the growth of the European cycle route network. Till next time for the 2023 recap – maybe earlier than mid-2024.
Written by Designer-in-Chief, Branding Guru and exceptionally-skilled (and modest) data essayist Omer Malak, with approval from all his team members on their fancy new job titles.
1. At the beginning of 2022, to comply with GDPR regulations, ECF implemented a 'cookie consent' dialog to ask each web visitor to give permission to track their visit on EuroVelo.com. This technical change meant that the website is not able to capture any data from web sessions where the user denies setting an "analytics cookie". As such, from 2022 onwards, web users will always have the option to deny their visit from being tracked. This means we can not compare the data sets between 2021 and 2022 and, going forward, this year becomes the 'new baseline' for future reports and comparisons.
2. Gender identity data is determined by Google's algorithm based off a subset of web visitors who agree to the cookie policy. Google classifies this information into two categories: self-identified male or female users. ECF provides this figure with the aim to show diversity in cycling. However, this does not refer to any position taken by ECF on gender identities. Ideally, Google's platform should include a third, other and/or non-binary category.