Back to all
News
Records continue to tumble for EuroVelo websites despite a different year
Monday, February 1, 2021
New milestones, more mobile users and younger audiences, ranking of routes and countries… Discover the EuroVelo web statistics report for 2020.
There is no denying that when we published the 2019 web report a year ago, we did not predict 2020 to change the landscape of our daily lives and work spaces so dramatically. But we choose to define the oddity that was last year by the way we overcame obstacles together and built back stronger: a series of high-profile online events in place of conferences, a raised profile for cycling followed by rapid infrastructure improvements, and of course a triumphant call to #RestartCycleTourism! As such, even despite a different and challenging year - particularly for the wider tourism sector - the EuroVelo web platform surpassed the 2 million sessions milestone for the first time in 2020.
What lies behind the success? How about the fact that we witnessed EuroVelo.com reach its highest ever peak of visitors in July? Or the successful conclusion of projects, a new route and increased interest in fresh EuroVelo goodies? Not to mention the work of our great network of partners and NECC/Cs (read more). All this led to an increase of 21.5% in visitors to our websites (surpassing the growth registered last year), totalling over 1.64 million users.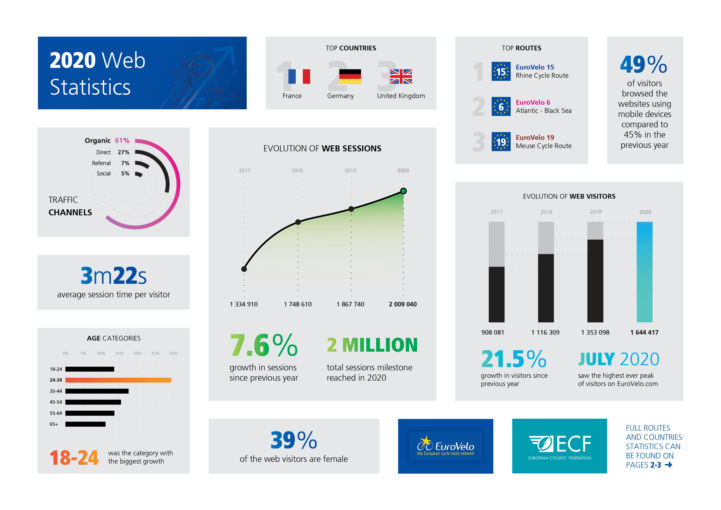 Spotlight: devices, search engines and demographics
One of the not-so-unexpected result was the significant increase of mobile users. Pretty much half of all visits to EuroVelo.com were either on smartphones or tablets. We can expect this usage to grow further going into 2021 and we plan to keep delivering quality content and experience for such devices. Likewise, the proportion of people discovering the website using search engines grew to over 60% (no doubt affected by the surge of interest (1) (2) in cycling tourism in the post-lockdown summer months).
The latest statistics report also explores the demographics of the web visitors. There was a particular increase of younger audiences (18-24 years old) to our web platform last year, while the most populous age category was 24-34 years old. Female readership increased to 39% overall, which is similar to platforms such as Instagram and Pinterest (source). We hope to grow this figure under a broader context in ECF's effort to increase cycling diversity.
Rankings: EuroVelo 15 and France remain popular while EuroVelo 13 and Belgium make gains
So how did each EuroVelo route and country rank this time? Well, the reign of EuroVelo 15 – Rhine Cycle Route and France at the top continues for another year (partly thanks to the French population who came out cycling in record numbers last summer). The champions are closely followed by EuroVelo 6 – Atlantic - Black Sea, EuroVelo 19 – Meuse Cycle Route and visitors from Germany and the United Kingdom. Additionally, Belgium had the highest growth among the countries driven by the interest in EuroVelo 19.
For the first time, we have also calculated the trajectory of each route since launching our new website back in 2019. The comparison indicates that EuroVelo 13 – Iron Curtain Trail was the clear winner with over a 100% increase in sessions last year (the route saw a massive outpouring of social media support following some promotion by the German authorities). EuroVelo 3, EuroVelo 15 and EuroVelo 12 have also received a significant boost since switching to the new site.
In sum, last year was yet another success for the entire EuroVelo web platform. It also provided many opportunities to learn from and to improve upon as we look to move past the 'new normal'. Rest assured, we already have big plans underway. Thank you for your continued support and interest in the EuroVelo network!
Author(s): Omer Malak