Back to all
News
Velo-city 2023: leading a pedal-powered transition
Tuesday, May 23, 2023
The record-breaking 2023 edition of Velo-city gathered more than 1,500 people in Leipzig, Germany, for four days of high-level discussions, insightful sessions, and networking. Here is a report of the event as seen through the eyes of the EuroVelo Management Team.
Velo-city is the world's cycle summit taking place this year in Leipzig, Germany, from 9 to 12 May. Running since 1980, the conference aims to bring together stakeholders from the public and private sectors, accelerate the development of sustainable bicycle-friendly cities and foster innovation in the everyday cycling industry. This year broke many records in terms of speakers, exhibitors, and was likely the biggest-ever edition, with enthusiastic participants from all continents.
Despite no EuroVelo routes passing by the city of Leipzig, in Saxony, EuroVelo was featured in many ways at Velo-city. All Velo-citizens who visited the ECF booth could get a copy of the new EuroVelo Overview Map, learn more about the network and even relax on some comfortable EuroVelo Partnership-themed seats while imagining their next cycling holidays. The EuroVelo Management Team was sometimes asked uncomfortable questions, such as 'What is your favourite EuroVelo route?'. Impossible to choose, really.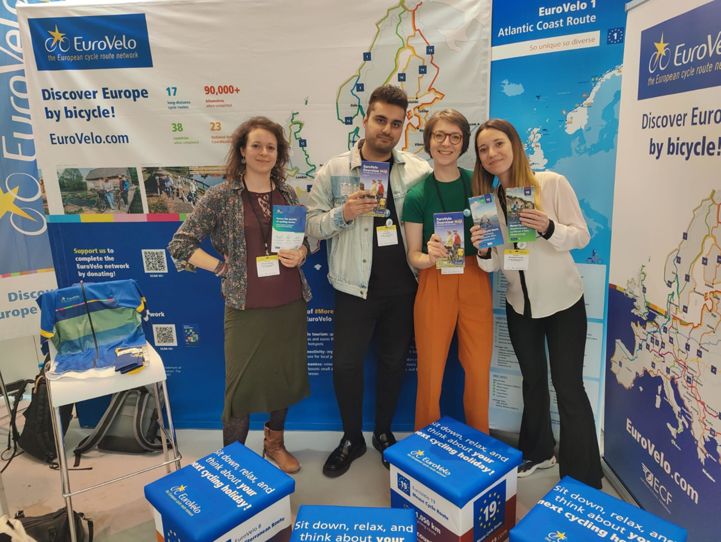 And there was more: Velo-citizens could play a scavenger hunt based on EuroVelo routes, spinning the wheel and guessing a EuroVelo route after collecting clues around the large Velo-city exhibition. Exclusive EuroVelo merchandise was the prize for a lucky winner at the end of the day!
Cycling tourism-themed sessions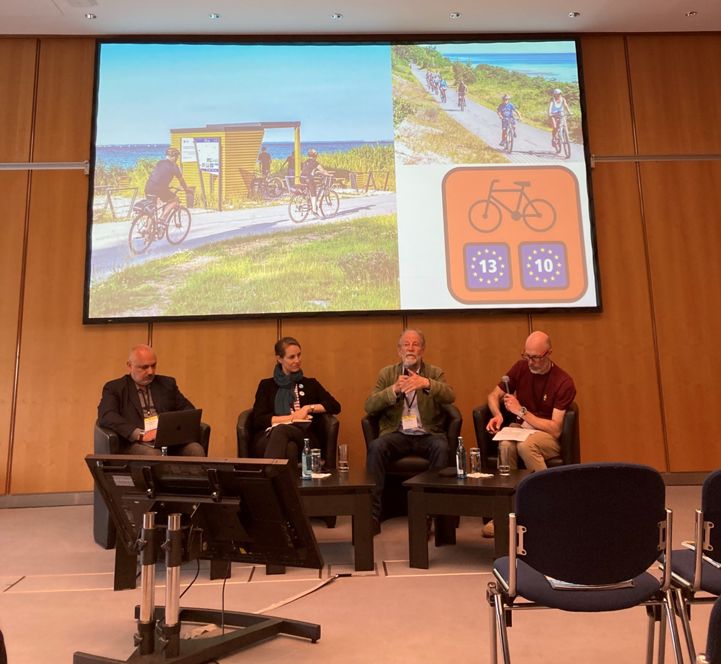 Cycling tourism and EuroVelo were the topic of several sessions. In particular, in a panel discussion titled 'Lessons from EuroVelo: 25 years of cycling tourism in Europe', EuroVelo Council Chair Jesper Pørksen was joined on stage by two EuroVelo Council members: Camille Thome, Director of Vélo & Territoires, Spiros Papageorgiou of Cities 4 Cycling. Former MEP Michael Cramer, whose input was key to create EuroVelo 13 – Iron Curtain Trail, was also part of the panel.
The dream of connecting Europe by bicycle dates to the early 1990s. Since then, EuroVelo has become the largest cycling network of its kind in the world. And "EuroVelo is a ride through history, politics, culture and nature" as aptly put by Michael Cramer, citing the example of EuroVelo 13 – Iron Curtain Trail, a Cultural Route of the Council of Europe. Known for being 'champions routes' in France, with high urban usage, EuroVelo routes make a good economic case to further develop national cycling networks. To multiply this effect, cycling needs to be marketed as a lifestyle, added Spiros Papageorgiou. The panelists concluded the session by pondering how to accelerate the development of EuroVelo with a new study on its economic impact, consistent branding and signing, better multimodality, and services along the routes.
Over at the Freewheel Stage, a fast pedal talk on the topic 'Cycling tourism: Slower can get us further!' included a presentation of the latest EuroVelo network usage figures by Enrico Durbano from Eco-Counter. German National EuroVelo Coordinator ADFC presented its latest Bicycle Travel Analysis, and EuroVelo Council Member Pinar Pinzuti introduced the highly successful Cycling tourism fair in Italy. Other speakers shared examples from the Trans Canada Trail, Hungary – which has been investing lots in cycling tourism –, the Netherlands, and Stuttgart in Germany.
On Thursday, a session about TEN-T deep-dived into the importance of integrating cycling into large infrastructure projects, and bringing EuroVelo into the TEN-T network. ECF's Aleksander Buczyński discussed the work that ECF is doing and the current momentum with the recent report by the European Parliament Committee on Transport and Tourism on the topic.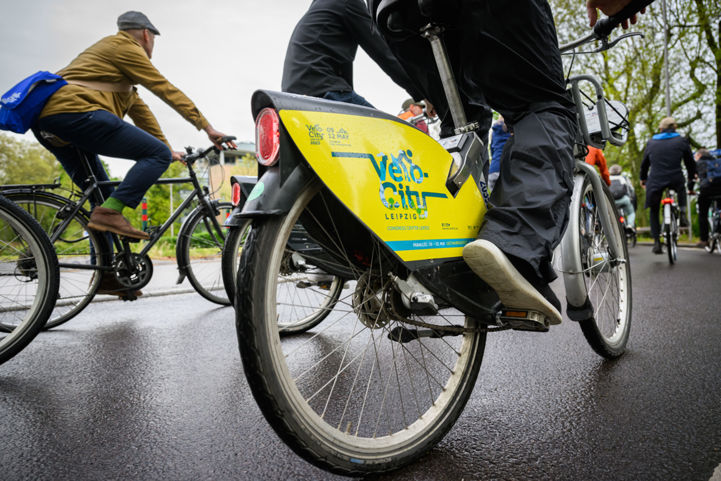 Cycling tourism and its growth were also highlighted by Alessandra Priante, Director of Europe at UNWTO, in a session on global initiatives for more cycling. Going from global to local, investments in EuroVelo route development in Romania were presented by Radu Mititean, while Michele Mutterle of FIAB (Italian National EuroVelo Coordinator) discussed the Italian National Cycling Plan, which includes EuroVelo routes.
Velo-city 2023 also had lots of side events, including the famous bike parade, get-togethers of various ECF networks and the Women in Cycling network, filling Leipzig with the festive ringing of bicycle bells – and a catchy Velo-city song! If you are curious to read more, ECF has produced daily reports with the best quotes and pictures from the event.
As we already look forward to Velo-city 2024 in Gent, Belgium, aka bike paradise, do not forget that Izmir, Türkiye, aka bird paradise, will host the EuroVelo & Cycling Tourism Conference from 11 to 13 October 2023. This year's theme is 'Cycling: a new perspective on heritage'. Want to share your projects and ideas with the broader cycling tourism community? A call for abstracts is open until 7 June!